Minne-Loppet Event Recap

On Saturday afternoon of the City of Lakes Loppet, a distinctive buzz began to build in the Lower Stadium of Theodore Wirth Park as more than 600 elementary-aged kids took to the starting line at the City of Lakes Loppet Festival's annual Minne-Loppet race.
A bubbling sea of of colorful jackets and hats began to grow as the starting time drew closer. The participants gathering were a lively representation of the future of cross country skiing, outdoor activity, and our community.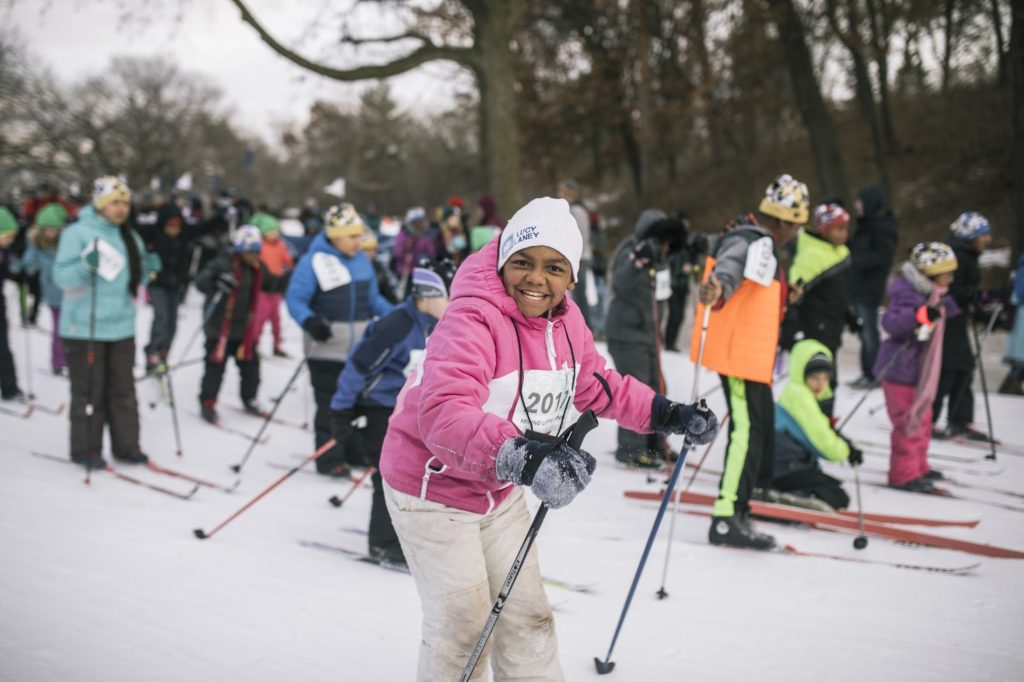 Photo by: BLK WLF Photography
The Minne-Loppet event drew in young skiers from community at large, the Minnesota Youth Ski League, and the Loppet Foundation's Minne-Loppet program, an in-school curriculum which engages third, fourth and fifth graders from ten North Minneapolis elementary schools in cross country skiing and nutrition lessons. For many of those skiers, the Minne-Loppet is more than a race, it's the culmination of a ten-week in-school program, provided by the Loppet Foundation. During the ten-weeks the Loppet provides coaching, equipment and groomed trails at the schools. The program culminates in the Minne-Loppet race, which is the highlight of the season for the participants, their schools, and their families.
After a quick talk from race announcer, Spiderman, the race began in a flurry of poles, skis, and radiant faces. Parents, family members, teachers, volunteers and other spectators lined the trail to cheer as the skiers took off on their first ski race. Some adults even joined the kids on the course to help when needed.
Most of the Minne-Loppet racers had been preparing for Saturday's race by skiing on flat playing fields at their elementary schools. Now, they were tackling the hilly terrain of Theodore Wirth Park and putting their stopping and turning skills into action. As the kids began cruising down the final hill toward the finish, spectators from the sidelines began helping those who had fallen and encouraging others who were a bit hesitant to descend the hill. In the end, everyone made it to the finish line with smiles on. Every skier was greeted with cheers, hugs, medals, cookies and hot chocolate – a much earned reward!
After the event, one young skier described the race as challenging, hard, exciting, and fun. Some discussed at the finish line that they were already excited for next year!
The Loppet Foundation would like to thank our sponsors, funders, and community supporters who make the Minne-Loppet program and race possible.