2015 Trail Loppet Age Gap Relay Recap


Eighty parents and kids competed in the Age Gap Relay event at the 2015 Trail Loppet.  Thirty-nine relay teams completed the second annual running event. The adult partners started the race with some fast splits and then tagged off to their youth partners. Each relay racer completed two laps of a one kilometer course with the kids crossing the finish line at the end.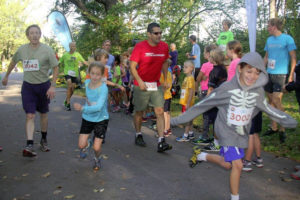 In order to be a team, the kids and adults had to have at least ten years in age difference. This year there were several young competitors in the U8 category, but their age did not stop them from competing with the big kids. The overall top three relay team winners were just seconds apart in the finish.
Relay teams received fun Trail Loppet socks for completing the event along with awards for the top three finishers in each age class.
The Trail Loppet Age Gap Relay is one of six in a series. The next Age Gap race event will take place at the upcoming Loppet Games on Saturday, October 24 at Wirth Beach. Click here for more information about the Age Gap Events or to register online.