Friday and Saturday Race Recaps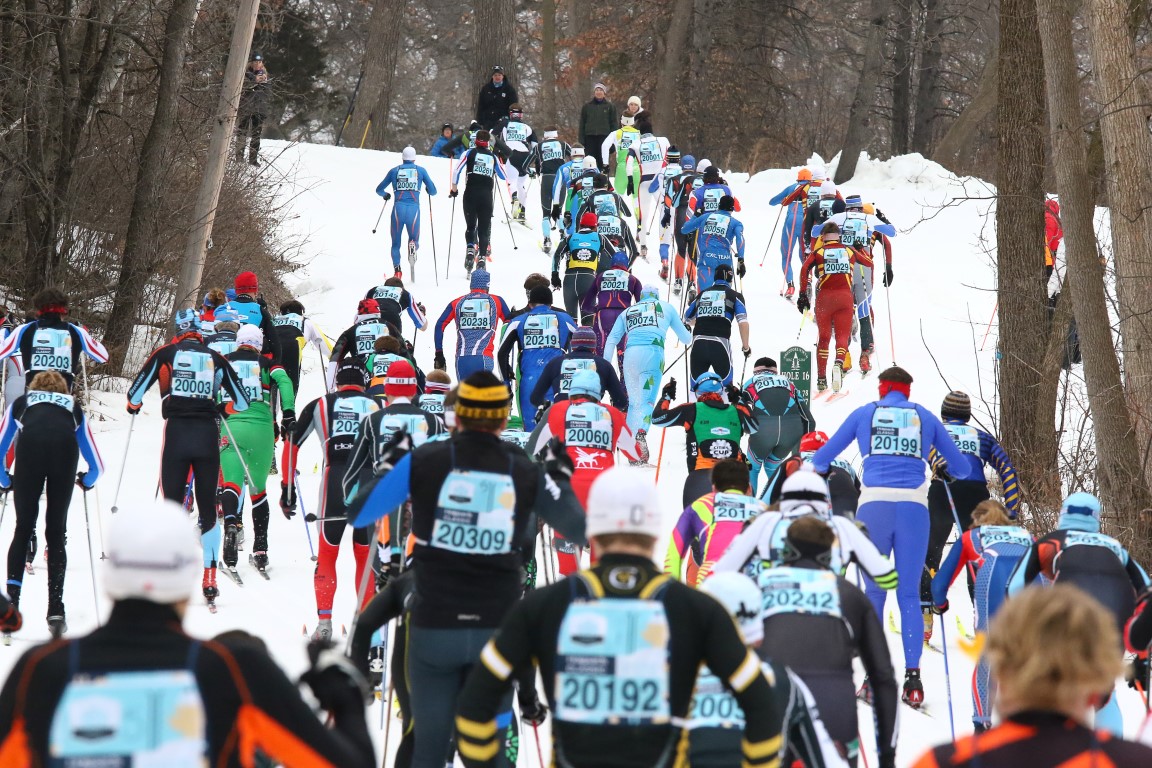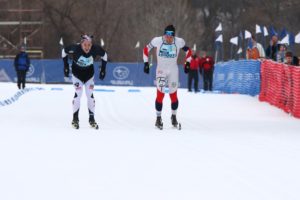 Photo Credit:  Bruce Adelsman / skinnyski.com
Matt Liebsch from Orono beat four-time U.S. Olympian Torin Koos in a photo finish this afternoon in the Hoigaard's Classic ski race as part of the City of Lakes Loppet Ski Festival. Liebsch, 31, finished the 16.5-kilometer race in 37:01; Koos, 34, who traveled from Wenatchee, Wash. to race, finished just one second behind Olympic hopeful Liebsch. Hoigaard's Classic was supposed to be a full marathon from Theodore Wirth Park through the Minikahda Country Club to end on Lake Calhoun but a lack of snow forced race organizers to contain the race on a man-made snow loop in Theodore Wirth Park. Erik Fagerstrom, 24, from Eden Prairie, finished in third place.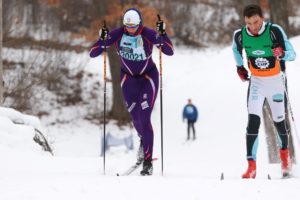 On Friday night, Torin Koos won the Finn Sisu Sprints by a strong lead. John Wessling, 23, of Minneapolis came in second place and Satchell Mische-Richter, 24, of Bloomington came in third place. The Finn Sisu Sprints are part of the Minne-Tour, a three-day competition that combines the Finn Sisu Sprints, the Hoigaard's Classic and the Loppet Skate race. Torin Koos is leading that competition going into Sunday's Loppet Skate race.
For the women, defending Minne-Tour champion Natalia Naryshkina, 30, from Verona, Wisc. won the Hoigaard's Classic with a time of 45:02. She also won the Finn Sisu Sprints the night before. Kathleen Dewahl, 28, of St. Paul came in second place in a time of 49:21 and Josie Nelson, 36, of Medicine Lake came in third. Rounding out the top three in the Finn Sisu Sprints were high school student Sarah Bezdicek and Kathleen Dewahl.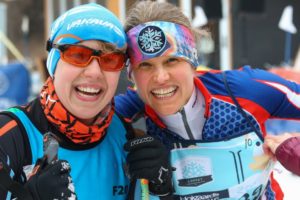 Overall it was a fast and fun race. The skiers had a good-natured attitude toward the race given all of the changes in the course. Nelson had great things to say about the course and the snow conditions after the
The classic races at the City of Lakes Loppet also included the Puoli Loppet ("pouli" means "half" in Finnish). The top three men's finishers in the 10-kilometer race were Rich Ryan, 47, from Minneapolis who finished in 28:18, Jeff Barstow, 18, of Ramsey (30:05) and Mike Berkopec, 52, from Eagan (31:42).
For the women, Amelia Schurke, 20, of Northfield won the Puoli Loppet with a time of 32:28. Emily Morison, 18, of St. Paul came in second place (33:12) and Bri Paulsen, 19, of Eden Prairie came in third place (33:18). Kathleen Miller, 54, had an impressive fourth-place finish, narrowly missed the podium by 38 seconds.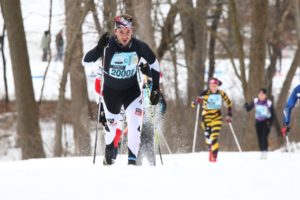 Hoigaard's Classic – Men
Matt Liebsch, 31, Orono, 37:01
Torin Koos, 34, Wenatchee, Wash., 37:02
Erik Fagerstrom, 24, Eden Prairie, 39:42
John Wessling, 23, Minneapolis, 39:50
Chris Pappathopoulos, 34, Sun Prairie, Wisc., 39:50
Luke Gesior, 24, Minneapolis, 41:03
Tyler Gilbert, 19, Arden Hils, 41:12
Joey Graci, 32, Marquette, Mich., 41:24
Andrew Tilman, 25, Princeton, New Jersey, 42:25
Jonathan Miller, 31, Roseville, 41:37
Hoigaard's Classic – Women
Natalia Naryshkina, 30, Verona, Wisc., 45:02
Kathleen Dewahl, 28, St. Paul, 49:21
Josie Nelson, 36, Medicine Lake, 49:21
Ingrid Leask, 24, Wayzata, 51:05
Jan Guenther, 55, Long Lake, 51:40
Lynne Cecil, 53, Bloomington, 52:28
Margaret Litchy, 28, Plymouth, 53:16
Margie Nelson, 35, Woodbury, 53:41
Leslie Hale, 50, Minneapolis, 54:00
Katherine Ellis, 59, Minneapolis, 54:19
Complete race results at cityoflakesloppet.com.