Middle School Girls Enjoy a Weekend Trip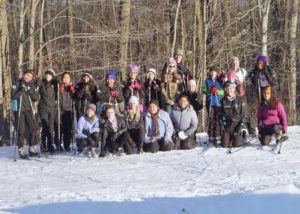 In early December Loppet middle school coaches Allie Rykken and Mary Bolla (Anwatin), Kelly Underkofler and Megan Trumper (Northeast) and Nancy Nelson (Nellie Stone Johnson) took 21 middle school girls on the Loppet's first girls-only overnight adventure. The athletes and coaches alike enjoyed the Wisconsin trails at Timberland Hills Ski Area in Cumberland and Balsam Branch Ski Trails in Amery.
The athletes said goodbye to parents and siblings on Saturday morning at Theodore Wirth Park and then journeyed 95 miles to Timberland Hills. They arrived around noon and then spent more than two hours on snow classic and skate skiing.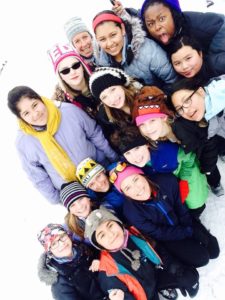 Thanks to their skiing adventures the girls and the coaches had quite the appetite! Tower Restaurant, a quaint and welcoming restaurant in Cumberland, hosted the team. The girls enjoyed bonding with their teammates and fellow Loppet Middle School athletes over a hearty Italian dinner. The coaches figured it is never too early to teach young athletes about the importance of carbo loading!
On Sunday morning the girls bundled into the van and experienced some new trails in Amery. They skied for another couple of hours, training and improving their skiing technique. Abundant smiles and contagious energy reflected the sentiment that no one really wanted to go home. The skiing was just awesome!
Over the course of the weekend the coaches had a chance to interact with the girls in a more in-depth and personal way than they can in regular practices.
This was particularly true for Kelly and Alanna, a Northeast sixth grader who shared with Kelly that "[she] had never been an athlete before," save a few dance lessons.  During a 25-degree-perfect-conditions ski Kelly told Alanna about how much she loves skiing; Alanna responded in kind. Later, Kelly  related that on the first day of practice Alanna had tried for an hour to stand up on skis. Now, just a few weeks later Alanna has mastered it and just loves skiing.
Alanna is already passing on her new-found passion to her younger sister, Amaya. The fifth grader told Kelly that she is joining the team next year. When Kelly, a three-time U.S. Paralympic athlete, met Amaya on Family Kick-Off Night she noticed something special about the young girl: Amaya, like Kelly, is missing the lower part of her arm. Kelly is looking forward to teaching Amaya how to ski!
At the Loppet Foundation we have been trying to engage more girls in our middle school teams and are excited by how much fun the girls and coaches had on the weekend trip. We look forward to building in more girls-only adventures into our middle school programming.