Solstice Ski and a Bet Settled

When John Munger settle a bet he settles a bet. For Give to the Max Day 2014 John agreed to dress up and dance like Prince on skis if the Loppet community raised $10,000. We raised $15,000. The executive director of the Loppet Foundation did not disappoint.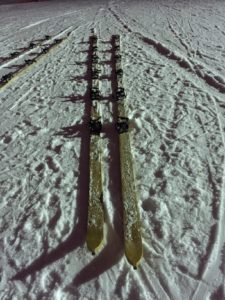 The deal was that John had to perform at the second-annual Solstice Ski, a member event that has turned into one of the organization's best member events. Some people came just to see John perform – they did not even bring their skis! Two of latter included John and Jean Lavelle who had even changed their travel plans to witness the great John-as-Prince reveal. The couple had given a generous donation at a critical point on Give to the Max Day that pushed us within reach of the goal. At the Solstice Ski Jean noted to Advancement Director Kristen Spargo that she told her husband that he needed to step it up to make it happen when they were looking at the online giving thermometer! (Thanks, Jean and John!)
And we did.
And thanks to Loppet staff member and event coordinator Joanne Guillery – and some purple tights circa 1985 that volunteer coordinator Nancy Nelson found in the Loppet warehouse – John looked the part. In fact, his own mom did not recognize him! She did a double-take when John cruised in on a snowmobile for his grand entrance.
When John arrived the awaiting crowd had lots of fun cheering him on and dancing along as the camera rolled. Ananda Bates is making a video of John-as-Prince that will be first released to Loppet members and contributors to the Give to the Max Day efforts. Then, we will release it more broadly for everyone's viewing pleasure(?).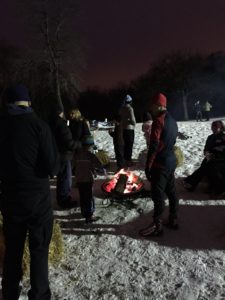 Then, after some dancing to "Party Like it's 1999" two teams, one of them led by John-as-Prince got on the new Crew Skis for the Pearson's Crew Ski Loppet (a new Loppet member event). Expertly made by super-Loppet-volunteer Jeff Richards, the 25-foot-long skis were truly a work of art. The teams got on the skis and were off. John-as-Prince's teams won by a long shot as the other team struggled to keep all of its members upright. Loppet coach and sponsorship lead Kelly Underkofler, a recently retired professional skier, noted that she is much too competitive for an activity like that! Even her skiing prowess could not propel her team to victory.
Overall the Solstice Ski was a wonderful event filled with late-afternoon and nighttime skiing on the shortest day of the year. (Okay, so the day before the shortest day of the year…) Several of the middle school team members from Northeast and Anwatin attended as well along with Anwatin alumni Raequan Wilson and Joe Clifton. Both young men displayed some great form! They must have learned from some great Loppet coaches! Mary Luoma was there, too, with one of the members of her Patrick Henry High School team.
It was a wonderful evening, and we look forward to sharing the video with all of you.