Surly Trail Loppet Recap – Amazing Day to Run and Drink Surly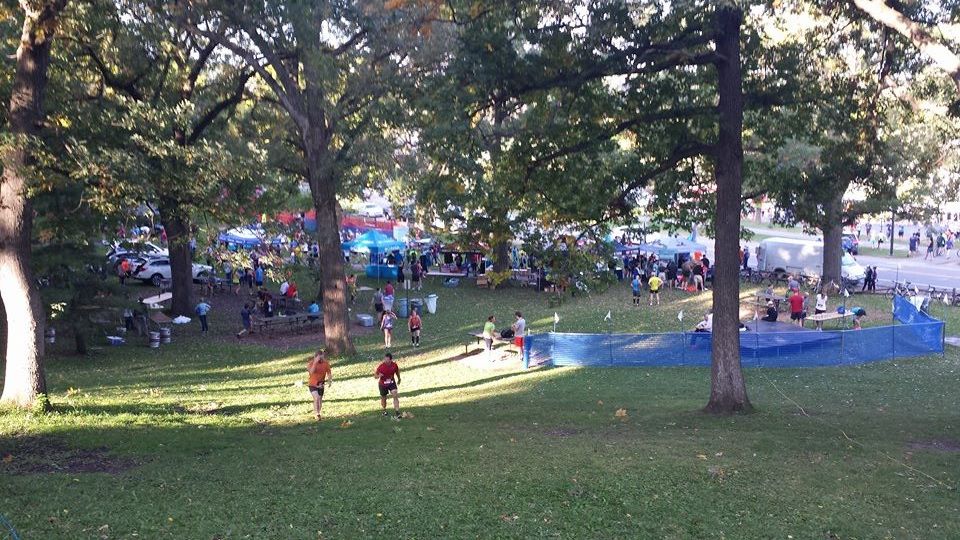 What a beautiful day to run! Early in the week there was a threat of rain but there was barely a cloud in sight when the 2014 Surly Trail Loppet started.
Feedback from the runners was overwhelmingly positive. "Tough, but great course!" "Beautiful!" "Wonderful!" "Fun!" "Great views!" Were some of the comments people made. Others remarked that it was amazing to be able to run for so long on trails in the middle of a city. Loppet Run Club coach Greg Nitty commented that the "course was really well marked." He only saw one person make a wrong turn – down a path from the old course. Loppet Run Club member Tony Heaney was thrilled that he had run the trails with the group because he noted, "I knew right where to turn."
Hands down the success of the event – in addition to the amazing weather, challenging course and great beer – can be attributed to fantastic volunteers before and during the event. One hundred volunteers came out to help on race day, which is a tremendous showing. Volunteer Coordinator Nancy Nelson remarked that all of the volunteers were just "awesome!"
Half-Marathon Results
A new course for the half-marathon welcomed the 719 participants in the race. In the men's results, Chris Lundstrom, 38, took first place with a time of 1:25:57 with Matt Liebsch, 30, and Erik Fagerstrom, 23, behind him, both with a recorded time of 1:27:40.
Lundstrom is the top trail runner in Minnesota while Liebsch is a perennial contender for the U.S. Olympic team in nordic skiing. Lundstrom pushed the pace, and Matt stayed with him the entire time. Fagerstrom, a Loppet Nordic Racing (LNR) coach who came up through the LNR training program, had been behind Brian Gregg, 30 (fifth place), but pushed it in at the end.
Liebsch noted that the course was "great" though perhaps a "bit slower" with the new route. With two miles to go Liebsch remarked that his "legs went out" in the longest run he has run yet this year.
"I love this race because you get to grab a Surly at the end," noted Liebsch, who was also out representing Gear West, one of the event's sponsors.
For the women, Ladia Albertson-Junkans, 28, took first place with a time of 1:35:34 with Sandra McClellan, 36, coming quickly in behind her at 1:36:50. Ericka Olin, 26, rounded out the top three women with a time of 1:43:03.
Albertson-Junkans is quite new to trail running having only started running trails a year and a half ago. This summer she entered a few casual races but she noted that the trails were "much more rolling hills and not as much single tracks…this was a much more intense race! The single track was challenging with its sharp turns and the hills were tough." Albertson-Junkans noted that she felt that she "didn't have the strength of regular trail runners because she got really fatigued on the hills." We think she did just fine!
Albertson-Junkans also had the opportunity to talk with some of the youth from the Loppet Foundation's middle school programs, which she noted that she really enjoyed.
"I think it's really great that you are getting kids involved in adventure sports, particularly youth who live right in the city," said Albertson-Junkans. "Who would think that you would have that many miles of bike trails right in the heart of the city?! It's wonderful to get them involved as I imagine that participating in these activities is not that common, and they truly are lifetime sports."
Albertson-Junkans also noted that she loved that Surly was the title sponsor, and she enjoyed meeting new people after the event. She looks forward to participating in the event next year as she lives so close to Theodore Wirth Park, which she thinks is "just beautiful."
Salomon 13.1K Results
In the Salomon 13.1K for the women Faith Leicht, 33, took first place with a time of 1:05:20 while 21-year-old Kelby Land took second at 1:07:26. Catherine Lee, 39, finished third for the women just six seconds after Land at 1:07:32.
For the men in the Salomon 13.1K, Michael Hartnett, 31, came out on top with a time of 51:12 with Wes Shaughnessy, 34, behind him at 53:43. Chris Lechner, 25, rounded out the top three with a time of 54:11.
Finn Sisu 5K Results
Olympian Caitlin Gregg, 33, took first place in the Finn Sisu 5K with a time of 20:24, two minutes ahead of second-place finisher Teddi Wood, 26, who came in at 22:34. Tracey Sauvignier, 36, finished just 20 seconds ahead of Wood at 22:54.
For the men running the Finn Sisu 5K, Andrew Quinn, 25, took first place with a time of 18:48 while Daniel Johnson, 56, came in second with a time of 20:02. The second-to-third-place time in the men's category was even closer than it was with the women as Bob Thompson, 44, finished just 12 seconds ahead of Johnson.
Age Gap Relay Results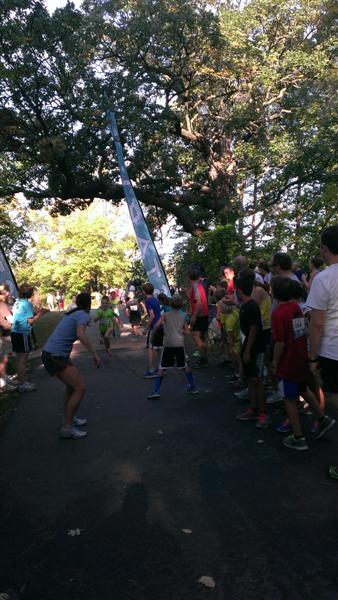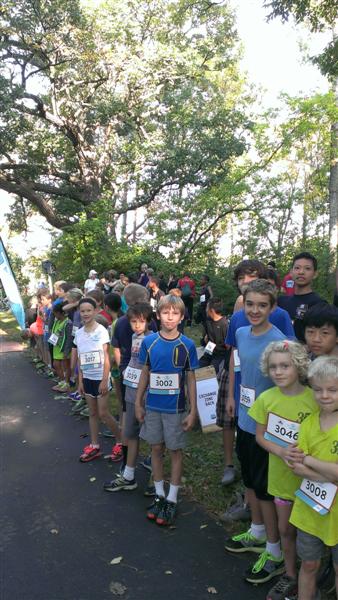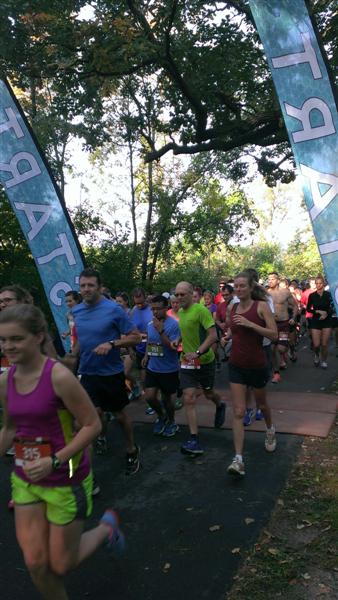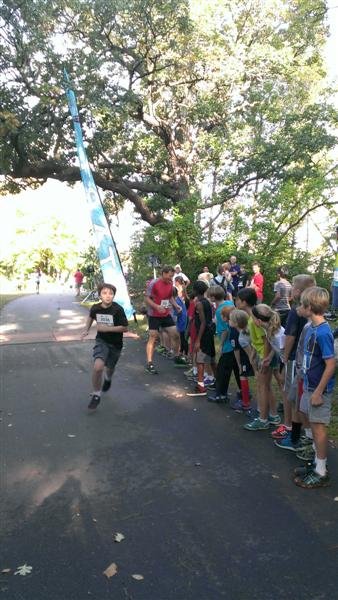 New to the Surly Trail Loppet this year is the Age Gap Relay, an event that will be included in all four of the Loppet's large-scale community events – the City of Lakes Loppet Ski Festival, the Salomon CITYTRAIL Loppet, the UCare Tri-Loppet and the Surly Trail Loppet. In the Age Gap Relay adults and youth (there must be 10 years between them) compete in the relay, which for the Surly Trail Loppet was an adventure run, which in Loppet-speak means that there were hay bales to hurdle!
The adults took the first 1K lap, followed by the youth. Both the adults and the kids did another lap. When the kids were finishing there was a wall of parents and onlookers cheering them on as they went the final 100 meters.
Loppet Foundation Executive Director John Munger and his daughter Lauren, 10, finished in first place with a time of 9:49. According to FAST KIDS Director Kim Rudd, "Lauren was FLYING!" Her performance helped pull the team to victory over the Loppet Foundation's Head Coach and Loppet Nordic Racing Director Piotr Bednarski and his son Stas, 11. The senior Bednarski noted, "Being defeated by Munger was the low point of my day…"
Pheng Yang, 12, who is a member of the Anwatin Ski & Bike Team came in third place with his partner Andy Brown. They came in just two seconds behind the Bednarskis and would have taken second place but Yang thought the first time mat was the finish line! (You lucked out, Piotr, because you nearly came in two places behind Munger!)
Surliest Runner
According to the Loppet Foundation's Medical Director Mark Bixby, M.D. there were "no major injuries reported." There were only some minor ones of the cuts-and-scrapes variety. But there were enough minor injuries to have about seven people contend for the title of "Surliest Runner," which goes to the racer who gets the most banged up in the race and is selected by the crowd during the award ceremony. The Surliest Runner gets two free tickets to the sold-out Surly Fest, which happens on the same day as the Surly Trail Loppet. This year's winner was a late-comer to the contest so we need to track down his name. But he did a notable face plant and scraped up his face. There were broken glasses. There was blood. It was a well-earned title.
More Feedback from the Race
Friends Jen Hubert and Julie Rieth had a great time running the half-marathon. For Hubert, this was her fourth time running in the event. She thought the course was "fantastic" and "just beautiful." A regular Loppet participant, Hubert did the inaugural Salomon CITYTRAIL Loppet this past spring and hopes to do that again next year. What she likes best about the event is that she "loves to run downhill fast." Though she noted that she wasn't crazy about the uphills!
For Rieth this was her first time participating in the Surly Trail Loppet. A skier, Reith was using the event for some pre-ski-season cross training. She definitely plans to do the race again…and her son piped in that he definitely wants to go to Loppet Adventure Camp next summer again.
Thank you for the fantastic turnout and support at this year's Surly Trail Loppet. And thank you to all of our sponsors for their continued support – 1-800-Got-Junk, Bachman's, Bearskin Lodge, Columbia, Comcast, f/go, Finn Sisu, Gear West, Great Harvest Bread Company, Hoigaard's, K-TWIN, Minneapolis Park & Recreation Board, Mrs. Olson's Lefse, Peace Coffee, Penn Cycle & Fitness, Salomon, Subaru, and of course, Surly Brewing Co.