A Busy Anwatin Team Worked Hard and Had Fun this Summer

The Anwatin Middle School Ski & Bike Team had a busy start to the summer. After school let out, nine team members dove right in to a week-long experience at Loppet Adventure Camp, the organizations Theodore Wirth Park-based day camp. The participants mountain bike, rollerski, canoe, go orienteering, play capture the flag and ultimate Frisbee, swim, adventure race, and participate in garden activities. That same week we had the second race out of six in the FAST KIDS mountain bike series (below).
The next week we settled into a two-days-a-week evening practice routine that we continued for much of the summer. Sometimes that meant racing in the mountain bike series; often it meant mountain bike practice, rollerski practice, or even canoeing practice! On one occasion we brought the canoes over to Cedar Lake and paddled around the Chain of Lakes; on another occasion we rollerskied the whole way around Cedar Lake. We even participated in the Loppet Foundation's first "Explore the Trails Potluck" member event (below).
At the end of June we were set to race the UCare Tri-Loppet, a canoe – trail run – mountain bike triathlon. Despite extremely heavy winds at the start of the race, ten Anwatin students happily completed it, most for the first time. Advancement Director Kristen Spargo had a blast participating with Keng Vang as part of the "paddle partner" program. They got caught up in the wind at the start. A number of tipped canoes and kayaks prompted Kristen to ask Keng if he could swim. When he answered "a little," she decided to join me and other Anwatin athletes and their paddle partners as we carried heavy aluminum canoes to one of the channels to continue the race. Between the paddle partners and a few Anwatin alumni the Anwatin team members got some great some pointers.
The Loppet Foundation provided the opportunity to take a few of the more advanced athletes to a training camp in mid-June with the Central Cross Country (CXC) Development Team. It was a camp specifically for the younger age range of 12-13 year olds. The focus was on continual movement as a way to develop as an athlete, and included sessions with elite athletes to talk about goal setting. All in all it was an inspiring and rewarding experience – we enjoyed bringing the Anwatin students together with many other cross country skiers their age who have ambition in the sport.
Wrapping up the Summer Fun
For the remainder of the summer we continued with practices and mountain bike series races through mid-August. We added in a couple of canoe derby races as well, where we would bike from Theodore Wirth Park to Lake Calhoun, canoe to Lake of the Isles and back, and then bike back to Wirth Park. The athletes really had a fun time with that aspect of summer training.
In addition to my role as Anwatin's head coach, I am the Loppet Adventure Camp director. So during the last week, I invited Anwatin team members to join in again. This time we had eight Anwatin athletes and five of their younger siblings. My favorite part of this was that we also had a number of Anwatin alumni working at camp so there was a very fundamental feeling of future, present, past coming together. Alumni included Jezeir and Xavier who were bike mechanics this summer. Raequan, Glory, Mike, and Matt were all on the Anwatin Ski Team at some point. Matt was there during the team's very first year, and he will be heading to college this fall.
For our summer finale we went up to Jay Cooke State Park, August 19-21, for a camping and training trip. Most of the kids are at a point in their fitness where we were actually able to do more of a training trip than a "for fun" trip. While we believe all trips should be fun, this trip provided a great opportunity to break some limits and do something epic that they will remember for a long time.
So the first day we went for a 5-mile trail run, which I was impressed that most of them ran this distance without much trouble. We then went to a lake where we swam, fished, and grilled up some dinner. Later that night, we played Ghost in the Graveyard at our campgrounds.
Early the next morning we rolled out of our tents on a mission: they were to rollerski from Carlton to Duluth (about 15 miles) and then hop on over to the Superior Hiking Trail and hike to Canal Park (about another 15 miles). We called it 50k Day. And they did it!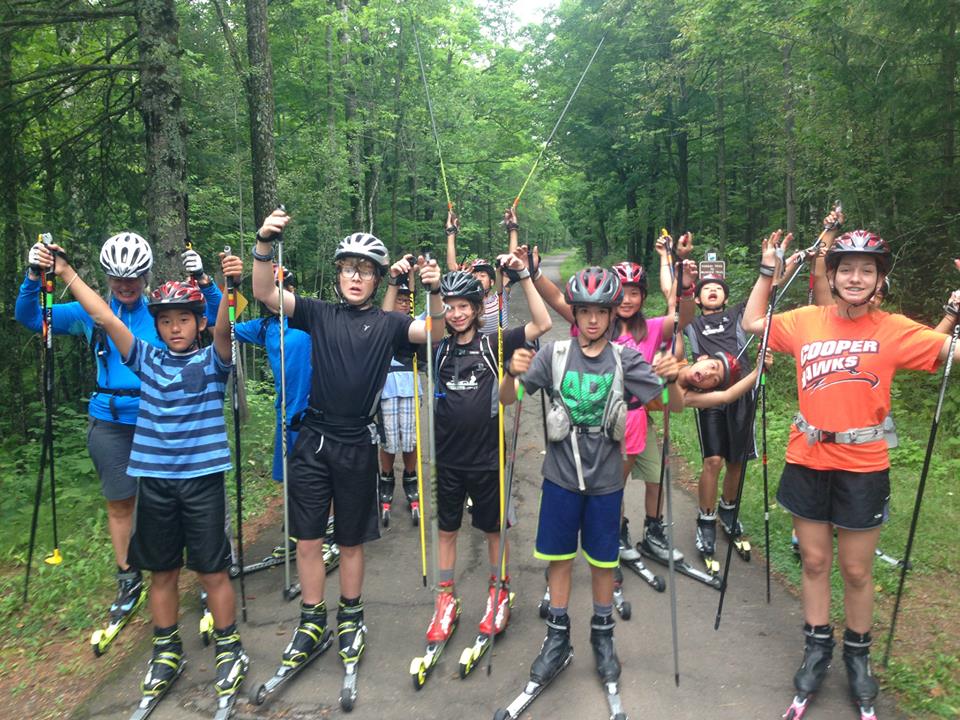 We had 12 kids on the trip, and about five of them took a couple-mile shortcut. But all in all they made it – and many of them even ran the last two miles! We rinsed off in Lake Superior, ate a hearty meal at Grandma's, and were off to bed and asleep by 9 p.m. The next morning we did some rollerskiing technique work and came home that afternoon. Overall it was a great trip.
Coach Allie Rykken
Anwatin Middle School Ski & Bike Team
P.S. – We loved this picture of the Anwatin team on the "Willard Munger Trail." Willard Munger was the grandfather of the Loppet Foundation's executive director, John Munger.