Spectacular Weather Welcomes Loppet-MCA Paddlers at Summer Solstice Event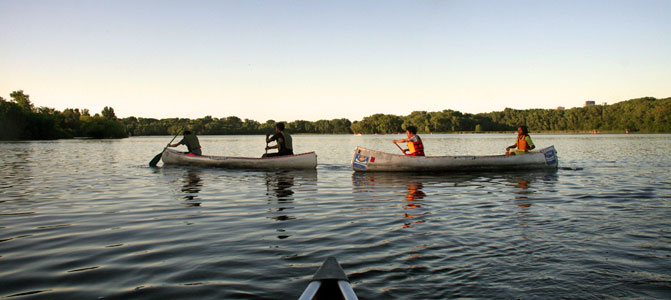 After weeks of seemingly non-stop rain, the summer solstice on June 21 was a perfect day to paddle the Chain of Lakes. With flutter flags in place marking the meeting spot on Cedar Lake and a nice spread of food atop the Loppet Foundation tablecloth, the group of would-be paddlers gathered to talk while Adventures Director Anthony Taylor and Loppet alumni and member-event helpers Raequan Wilson and Saysetha Philaphandeth unloaded the canoes.
Several of the participants had their own kayaks and canoes, while others had reserved the jointly owned Minnesota Canoe Association (MCA) and Loppet Foundation canoes. Given the number of people who registered (and better yet…attended) the Loppet team even tapped into boats we rented for this summer's Loppet Adventure Camp.
In the end well over 30 people gathered for the Loppet-MCA member event, including Olympians Caitlin and Brian Gregg; Wilderness Inquiry employee and MCA secretary Karl Huemiller; MCA communications director Mary Hoffman, expectant parents Carrie Johnson and Pierre Tournier, avid cyclist Vince Rosetta and his wife and stepson, and pals Connie Klotz and Claudia Dengler, among others.
Several Loppet employees – Joanne Guillery, Anthony Taylor, Paul Holte and Kristen Spargo – participated, too, with their families (or subsets of them) in tow. Everyone seemed to have a wonderful time and enjoyed the opportunity to get out on the lakes with family and friends, old and new.
Most of the group headed through the Kenilworth Chanel from Cedar Lake to Lake of the Isles to enjoy the spectacular view of the city skyline.
Several of us had not been on Lake of the Isles since the Comcast Luminary Loppet and while we love to ski, it was glorious to be on Lake of the Isles in the sunshine and 80-degree weather. (As we were paddling, we passed a paddler who was not part of the group in this year's Loppet-branded t-shirt! As the marketing person, I love to see that…)
The Summer Solstice Paddling event was so well received this year that we will definitely need to continue this annual Loppet-MCA tradition. Thank you to everyone who joined us for a beautiful official kick-off to summer. We hope to see you next weekend at the UCare Tri-Loppet as participants or volunteers.
– Kristen Spargo, Director of Advancement