Middle School Teams Enjoy Trip to Michigan's Upper Peninsula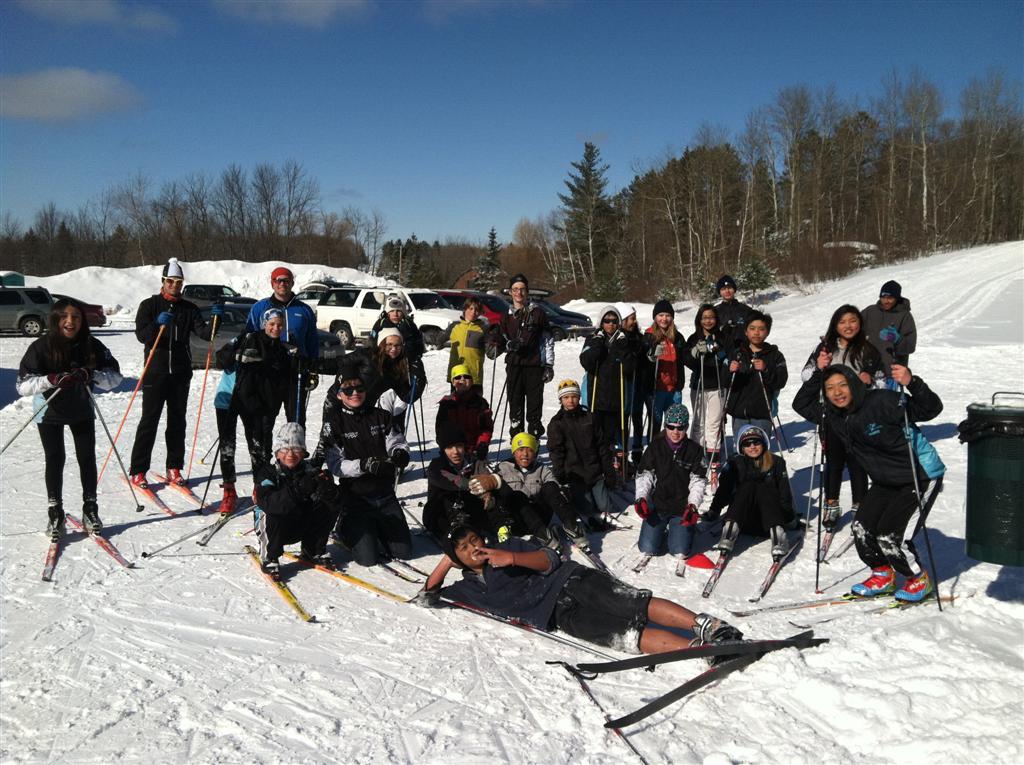 Winter may be on the fence in the Twin Cities, but it is still working its magic in Ironwood, Mich. and northern Wisconsin. So this past weekend the Anwatin and Northeast middle school teams took to the northlands for an-end-of-season last hurrah! Twenty nine skiers and six chaperons hopped into vans on Friday afternoon destined for Wolverine Village, with hopes of snowy trails and new adventures. And we found it. .
Along the way on Friday, we stopped at the 00 Trailhead of the Birkie trails for a ski break. Those who had skied the Birkie before tried to explain the character of the trails and pointed out various landmarks such as the place where snowmobilers sit and laugh at you when you fall on your butt, where you remind yourself that when the going gets tough…the tough get going!
We heard from a reliable source that the trail was a bit better to the north, so we ventured into the hilly terrain, which was only magnified by the slick, speedy snow. We zipped around for a good hour and a half or so until we worked up a healthy appetite. Dinner was hosted graciously by the Rivers Eatery in Cable, and they couldn't have been more wonderful as all 35 of us clomped on in, all riled up after some invigorating skiing. A huge thanks to them and the locals that were equally as delightful that we were interrupting their quiet dinner.
We carried on into the evening to our destination and arrived right after some-good-old-lake-effect snow started invading. My family and I always joke that entering Ironwood is like entering Narnia, and sure enough, as soon as we passed those borders whiteness consumed us – and we were plenty happy about it. We settled into our cabins at Wolverine Village, which were a jump across the street to the Wolverine Ski Trails. As coaches unpacked, the kids played in the falling snow, from which emerged, of course, a friendly snowball fight.
I could go into further praise of Wolverine Village, but suffice to say it's a perfect place to take any training group, and we couldn't have asked for more pleasant and convenient accommodations.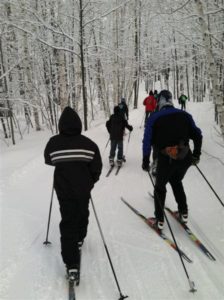 After consuming the delicious pancakes the girls made for us, we were on the ski trails by 9 a.m. The freshly groomed trails alongside trees that still were plastered with snow made for an incredibly picturesque morning. We classic skied until 11:30 a.m., and I had to chuckle a bit every time someone said, "These trails are awesome!" or "I really liked the trails in Wisconsin, but I really like the trails in Michigan, too!" It's always satisfying to take the middle school kids to places outside of Wirth Park (as great as it is!)
We broke for lunch and quiet time and reconvened on the ski trails with skate skis at 2:30 p.m. The sun was high in the sky, and for some of the youth, this called them to want to do more playing than skiing. But once we got moving, we cruised around the ups and the downs once more and came together again for some group festivities. We relayed in a few varieties, partook in a downhill gliding contest, and then broke into a few options: SkiBall, Hike our Way up the old Ski Jump Hill as Far as we Dare and Come Barreling Down it, and simply skiing! When we were ready we went back inside, the boys made dinner, and we settled in for the evening. One thing I didn't mention about Wolverine Village was its abundant board game collection in the dining hall. This, in addition to sledding at high speeds down the adjacent mostly plowed dirt road kept everyone plenty busy.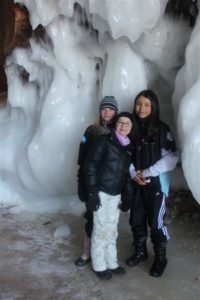 The next morning we quickly packed up our things and took off for Bayfield County, which presented us with this year's famous Ice Caves. Apparently they only come around in such glory every decade or so due to very specific conditions. This was the last day that the Caves would be open to the public. I wasn't sure we'd make it under the wire, but boy did we! And it worth it! It was a long hike in, and it was cold. But the sun was on our side. The caves were a new wonder to us all.
I tried to explain what we were getting ourselves into the best I could to the kids, but it mostly came out as, "Well guys, my understanding is there's a bunch of ice and it's really neat." Needless to say, I didn't talk it up all that well, and all of our expectations were completely blown away! Our original plan was to ski it, and at the last minute, we decided to walk it because we weren't sure what the snow conditions were like/if it would be a complete wreck to try to walk around the ice in ski boots.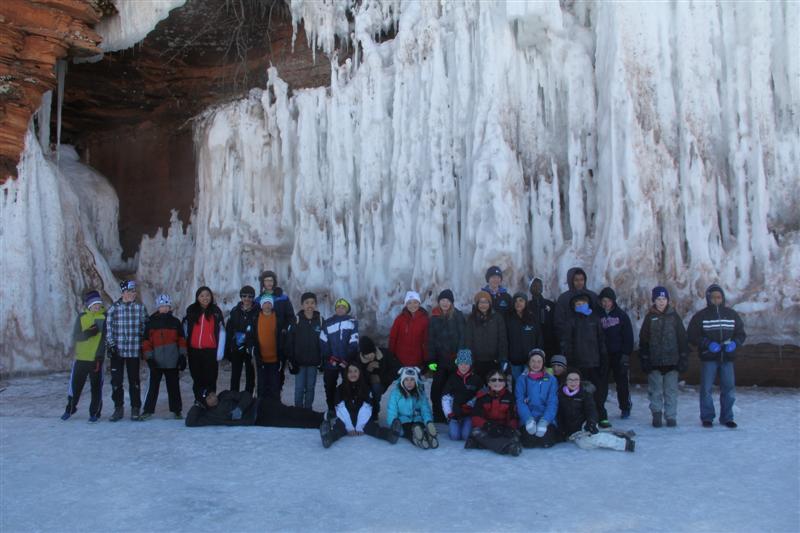 Even though the experience wasn't directly skiing related, this was the most important part of the weekend for me. The whole experience of new places, new trails, new roads to follow, new caves to navigate, all of these are driven by the desire to explore. And exploring nature is one of the finest aspects of cross country skiing.
Thanks to all for the great experience!
Coach Allie Rykken