Second Annual Fittest Fattest Athlete Award Revealed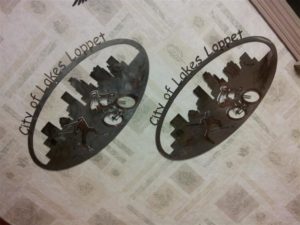 The Fittest
Fattest
Athletes are the male and female athletes with the best combined time in the Loppet Skate Marathon and the Penn Cycle Fat Tire Loppet. This year's winners will have to contend with a bit longer races – a full marathon versus the 33 kilometer skate race from last year and a 35 kilometer bike ride complete with hill versus the completely flat lake race from last year.
But we know there are people out there who are up for the challenge. Fred Kueffer was the inaugural winner for the men; Patty Schmidt took the field for the women.
Like last year, the Fittest Fattest Athlete will receive a custom made award by a local artist, with Fred Heim designing and crafting the 2014 Fittest Fattest Athlete Award.
Who will win this year's prize? Sign up for both the 42K Loppet Skate and the 35K Penn Cycle Fat Tire Loppet and maybe it will be you. Whether you post the fastest combined time or not, any athlete who completes both grueling events in one day is truly remarkable . . . Sign up quickly! We expect both events to reach capacity.
Good luck and see you on the trails!
– The Loppet Crew