Loppet Foundation Adds Two New Minne-Loppet Programs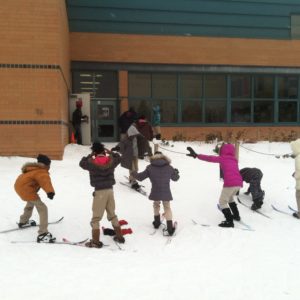 The Loppet Foundation has partnered with Central Cross Country Skiing (CXC), three elementary schools and the General Mills Foundation on an exciting addition to the Foundation's Minne-Loppet Programming. CXC is providing innovative ski equipment and the General Mills Foundation has provided a grant that allows the Foundation to spread its Minne-Loppet programming beyond Loring, Pillsbury, Nellie Stone Johnson, Lucy Craft Laney and Bethune Elementary Schools.
The Foundation recently started programs at Hall Elementary and Park Brook Elementary and expanded programming within Nellie Stone Johnson – where we were able to infuse cross country skiing into Nellie Stone recess time. Cross country skiing is now part of the culture of play at the school.
The ski equipment uses a universal binding technology that allows any shoe or boot to be used with the skis. Eliminating the need for the sizing of boots is a great addition for young elementary school students. They can simply strap on the skis without having to be fitted into ski boots – saving both on confusion and time – meaning more time on the snow gliding.
"We are really excited about this opportunity," commented Loppet Adventures Director Anthony Taylor. "I'm really hopeful that with these new skis we can share the joys of an outdoor active lifestyle with even more kids."
Thanks to the General Mills grant the Loppet Foundation is able to provide programming at the schools – teaching the kids how to ski and bringing them to the Cook County Minne-Loppet. Look for Hall, Nellie Stone, and Park Brook kids at the 2014 Cook County Minne-Loppet.