Nov. 30 an Important Date – Price Hike, Loppet Challenge Registration Deadline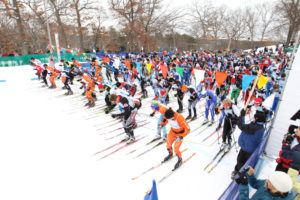 The City of Lakes Loppet Ski Festival brochures are at the printer and will soon arrive in your mailboxes. (It will be your first look at this year's Loppet poster!) But why wait until your copy arrives to sign up? Register now and save.
The brochure outlines all of the exciting new changes at this year's Loppet. It even includes changes in the layout of the brochure itself, grouping events by age-appropriate activities for the little kids and the big kids. We removed the price chart and the timing of the price hikes so we had more room to highlight all the new stuff, including Classic Saturday and Skate Sunday, the new snowshoe loppet,  the new location – Loppet Village at Lake Calhoun Center, and other festivities. (Thankfully, some things will be the same – like our partnership with Surly Brewing Co. and the post-event party!)
So, we wanted to flag the upcoming price hike.
Register now and save.