Minne-Loppet Programs Starting Up; Volunteers Needed to Support the Success of Loppet youth Programming.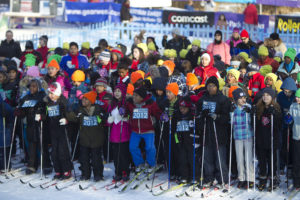 The Minne-Loppet programs will be starting the week of November 17 at Pillsbury, Loring, Nellie Stone Johnson, Lucy Laney, Cityview, Parkbrook Elementary (Brooklyn Park) and Bethune Elementary Schools. This is represents significant growth in the program and coaches are needed. These programs are run as an integral part of the schools' physical education curricula. The Loppet Foundation provides equipment and coaches who teach kids how to ski, while infusing a nutritional and healthy-lifestyle educational component into their skiing lessons.
The Minne-Loppet Program will culminate, of course, at the City of Lakes Loppet festival. If you are interested in being a volunteer  coach during the 8 week season – you would be committing to 4 hours per week including travel time. The program meets one day per week (M, T , W, Th options avaialble).  On the day of the MinneLoppet – Jan 31, 2015 you serve as a host to the families from the school that you have been coaching . If you are interesting in coaching or hosting MinneLoppet families on the day of the Minne-Loppet please email us at volunteer@loppet.org.