Give to the Max Day Update – more than $10,000 raised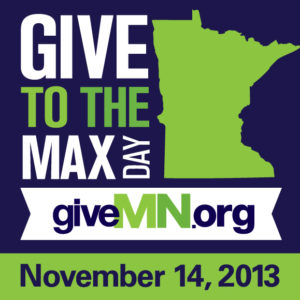 The competitive spirit was running high at the Loppet Foundation during the lead up to Minnesota's Give to the Max Day on November 14. Executive Director John Munger and Director of Advancement Kristen Spargo were battling it out to see who could both raise the most money for our Loppet Adventures youth programs and to see who could engage the highest number of donors.
John's agreement (threat?) to wear the (in)famous Loppet Man skiing attire if he lost, spurred many would-be donors to contribute to Kristen's fundraising efforts. An anonymous source told Kristen that "Humiliating him is basically a Loppet-wide-recognized sport." Still others responded, "Can I pay to have him put his regular clothing back on????"
Kristen inspired her friends to donate to her help-me-beat-my-boss efforts, which garnered gifts from as far away as Alaska, Hawaii, and New York.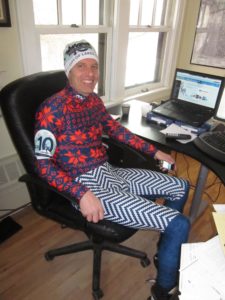 On November 17, three days after the official close of Give to the Max Day, Kristen had raised $1,740 from 26 donors, while John had raised a mere $675 from 9. She claimed victory because *technically* Give to the Max Day had ended three days prior. But in our overall efforts, Give to the Max Day-related fundraising efforts brought the numbers much closer. As of Wednesday, November 20, Kristen had raised $1,875 while John was at $1,675, thanks to post-November-14 gifts.
But it does not matter who won or lost the inaugural Spargo-Munger Give to the Max Day Challenge – so many of you responded to our call for donations that the real winners are the kids in our programs. So, THANK YOU for all of you who supported our Give to the Max Day efforts.
P.S. – Per his agreement, John will be sporting the Loppet Man suit on December 10, 20 and 24 . Pictures will be posted to Facebook. Stay tuned!