Henry High School Rises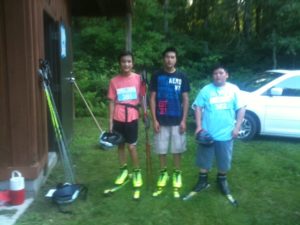 Three years ago, when Joe Clifton was a freshman at North Minneapolis' Henry High School, he was the lone participant on the cross country ski team. With no real team at all, he had to practice with the Washburn team.
Over the next two years, graduates of the Loppet Foundation's Minne-Loppet and middle school programs joined Joe. In 2011 Anwatin-based Loppet graduate Mike Xiong joined the team, and Henry competed in the conference relays for the first time in years. By the winter of 2012 Henry fielded a full seven-skier team at sectionals, largely due to graduates of the Loppet Foundation's middle school program, where 7th and 8th graders at Anwatin and Nellie Stone Johnson learned to cross country ski.
Fast forward to Joe's senior season: he will be the captain of a team larger than he could have imagined two short years ago. As an active participant in Loppet programs himself, he will welcome seven new freshmen to the Henry Ski Team, all graduates of Loppet Foundation programming.
As the new coach of the Henry team and a volunteer coach for Loppet Foundation middle school programs, Mary Luoma is ecstatic. She is like all loving parents – excited to see her kids grow up from Loppet elementary school programs to middle school programs and finally compete at the high school level. She is hoping to recruit a few more kids – graduates of the Pillsbury Community School's Minne-Loppet Program.
"I'm trying not to jinx it, but I think this year we might field a team of twenty athletes – and have a chance to win the Minneapolis City Conference Championship," says Luoma.
Pretty heady stuff for a program that had one skier just a few short years ago . . .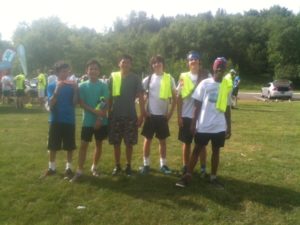 Several members of the team and many of the incoming freshmen have been training this summer with the Loppet Nordic Racing program. Mike Xiong, who will be a junior, along with brother Muaj Xiong and Saysetha Philaphandeth, recently competed in a roller ski biathlon race hosted by Minnesota Biathlon. Muaj and Saysetha, who will be Patrick Henry freshman (both introduced to skiing through the Bryn Mawr Minneloppet program), have participated on the Anwatin Middle School team for the last three years.
Henry placed well at the recent Ringer Roll Rollerski Race. Saysetha showed significant improvement over last year's time. Xavier Mansfield, a three-year skier at Anwatin who also raced for Henry last year as an eighth grader, placed first in his age/ski class (U-16/ Marwe Combi), with fellow Anwatin graduate Jezeir Bradley right behind – finishing third in the class.
In addition to preparing for a great upcoming ski season, team members Joe Clifton, Raequan Wilson, and Selena Philaphandeth (Saysetha's older sister), have been working as counselors at Loppet Adventure camps. They have been sharing their interest in skiing and the outdoors with elementary age kids, some of which may become future Patrick Henry skiers.
As Coach Mary looks ahead, she is warming up the snow dance with anticipation of the Patrick Henry Nordic Ski Team's bid for the Minneapolis City Championship 2014 – led by Loppet alumni. Dance Mary, dance!!!