Looking Forward to the Trail-Loppet

The Loppet Foundation's Surly Trail Loppet, a thrilling trail run through Minneapolis's own Theodore Wirth Park, is coming up on Saturday, September 21. Almost as famous for its fun and challenging course as it is for the delicious Surly beer at the finish line, the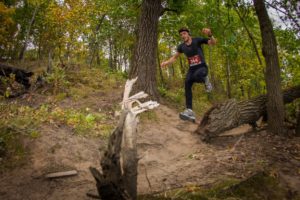 Trail Loppet provides a great chance to get out and enjoy all that Minnesota fall has to offer, as noted by the Best of MN Award for Best Footrace presented to the Trail-Loppet in 2013.
From serious racers to people out to enjoy the day, there's a Trail Loppet for everyone. The Trail Loppet offers three distances; the Half Marathon (13.1 miles), the Salomon 13.1k (7.5 miles), and the FinnSisu 5k (3.1 miles). All races are on the dirt and wooded trails of Theodore Wirth Park, and are subdivided into waves for all ability levels, ranging from the "Furious" wave to the "Cynic" (playing off the Surly beer theme) and even a "Fast Kids" wave for the FinnSisu 5k.
The races start and finish near scenic Wirth Lake, and the winding courses mix asphalt paths with single track trails, passing gorgeous lakes and meadows, with periodic aid stations to re-energize racers. After the race enjoy post race lefse and snacks, along with brats, hot dogs, and a well earned complimentary Surly beer backdropped by live music before the awards ceremony. (Concessions are free to people who biked, walked, or ran to the event.) Locally made one-of-a-kind Surly Trail Loppet Beer Steins – filled with Surly Beer – are awarded to the top male and female finishers, along with Age Class medals for the top three finishers in each category, plus SurlyFest Tickets for the Surlyest runner (someone who returned with skinned knees, scratched shoulders, and other badges from the woods).
Come see for yourself why the Surly Trail Loppet was awarded Minnesota's Best Foot Race in 2013, and why its loyal following returns year after year. Register now!