Anwatin Summer Training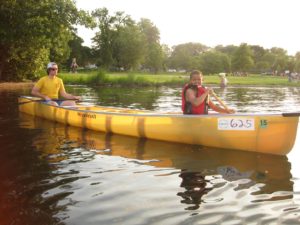 Most middle-schoolers probably don't have any idea why skiers would train in the summer, much less would sacrifice their precious morning sleep to get up and work out. "I thought 8:30 would be too early, but they always seem ready to go," says coach Allie Rykken of her Anwatin Middle School athletes. Team Anwatin athletes practice on Monday and Wednesday mornings (8:30 sharp) and train with outdoor activities including mountain biking, canoeing, strength, and light running.
Aside from daily practices, Team Anwatin has taken part in the Loppet Youth Mountain Bike Series and Hoigaard's Canoe Derby, sent athletes to the Tri-Loppet Triathlon, and is planning more "achievement-type workouts," which include fun destinations like Minnehaha Falls and the Sculpture Garden. "With these workouts, kids can directly say 'I went there'," says Coach Allie, explaining the sense of accomplishment that can come from destination workouts.
Though she admits that "compliant may not always be the right word," Coach Allie says her Anwatin kids are always willing to dive into new things and love the activity and team bonding. "I guess my biggest reaction is I'll ask them what they're going to do for the rest of the day," said coach Allie Rykken of her Anwatin Middle School Ski Team kids, "and they'll say 'Oh, nothing.' I once went to one of their houses and saw the boy sitting in the same spot a half hour later as I drove by. I just think these kids don't always have a lot going on, this is a good way for them to see their friends and do something productive."