Open House, New Family Members, and a Matching Grant

By Annie Harvieux, Loppet Intern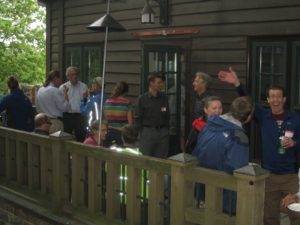 Last night was The Loppet's annual Open House, complete with Surly, success stories, and ample smiles as members met and mingled. From my position behind the registration desk, I, your friendly neighborhood Loppet intern, got a taste of both the fun community of the Loppet and the good work it does as an organization.
The evening started off with a delicious spread of bread and pita with toppings, fruits, vegetables, and, of course, ice-cold Surly beer for the grown-ups. Next, Loppet members and friends settled into chairs for a presentation on the Loppet's programs, successes and some special people. After a brief description and update of each pillar of The Loppet Foundation (Events, Adventures, Nordic Racing, and Stewardship), The Loppet had some awards to give out to all-star volunteers: handmade Loppet posters signed by Mayor RT Rybak himself.
From the sign-up table, I had the pleasure of meeting Loppet members personally as they signed up for the Loppet or renewed their memberships. The Loppet family grew by 8 individual and 4 family members at the Open House, and with 20 new memberships coming in from online, we topped 700 members and obtained our matching grant! I'm sure feeling welcome in the Loppet family, and hope you all are too.