Nellie Stone Paddles Their Way to Race Day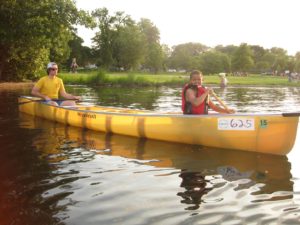 Have you been training for the Tri-Loppet this summer? The Loppet's Youth Teams sure have. Yesterday, a dedicated troop of Nellie Stone Johnson Ski Team athletes met at Cedar Lake to hit the waters of Lakes Cedar, Isles, and Calhoun and get in some final paddle practice. Divided into boats with two youth paddlers and one adult coach, the kids hit the water.
Along with brushing up on canoe basics like C- and J-strokes and proper paddle-holding, Team Nellie Stone learned to work around obstacles, like tunnels and trees fallen from last weekend's storm. Once the group reached Lake Calhoun, there was a brief stop at a beach for a refreshing swim: perfect for the hot, humid, sunny day. Returning to Cedar Lake, the athletes picked up the pace for an increased-intensity paddle back. Boats got especially competitive in the final stretch across Cedar Lake, and the kids raced to the finish rather than coasting in like a normal workout. Several athletes also added their own personal style to the workout, including Nayeli bringing a camera to capture the peaceful lakes and Bryce toting a fishing rod to use during the swimming break.
Aside from building fitness and enjoying time on the water, the workout was also playing an important role in training for the Tri-Loppet: making sure canoeing skills are in top shape for race day. Youth from Nellie Stone and Anwatin will be showing their skills this Saturday morning on the course, and need to be ready to push their adult Paddle Partners' paces for a strong finish. The Loppet kids are ready, and we can't wait to see what they can do in the Tri-Loppet Triathlon.