Local Youth Step it Up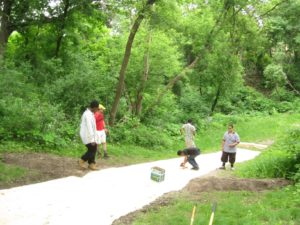 By Annie Harvieux, Intern
Walking through the Theodore Wirth trails in the summer, you will hear the buzz of mosquitoes, the rustle of leaves, and… faint rap music?
This summer, a group of local youth is working under Jon Miller, Nellie Stone Johnson Ski Team coach and Loppet Foundation employee, with funding from Minneapolis's STEP-UP Summer Jobs Program to get some hard-earned cash by maintaining local trails. Miller heard about the program from a handout given to his middle-school team at Nellie Stone School. The program allows for the purchase of supplies, along with paying Jon and the boys. "The kids need the money and there's a lot of work to get done, so it's a great way to work that out," says Miller about STEP-UP. Other programs are run in various parts of Minneapolis.
"I took a handout [at Nellie Stone], I was there before any of these guys," says student-worker Ligarius Munn, age 15, asserting his role in the STEP-UP saga. His co-workers are Pierre Bishop of Southwest School, age 14, Tyece Howze of Patrick Henry School, also age 14, and Venjoseph Brown, age 15.
"The goal ultimately is to have as many kids that have had experience with our programs as possible," says Miller. In fact, all four boys have skied or biked with a Loppet middle-school team. This is the first year of a STEP-UP program run by the Loppet, and it is already a great success. The boys work six-hour days on Monday, Wednesday, and Friday, doing maintenance work on the South Wirth trails, particularly the Butler and Bog trails. "This work usually happened on volunteer days, with 20-30 people working, but only for one day. And the volunteers would usually be untrained. People here," with the STEP-UP program, explains Miller, "only make the same mistake once," because they do the same work repeatedly and gain skill at it.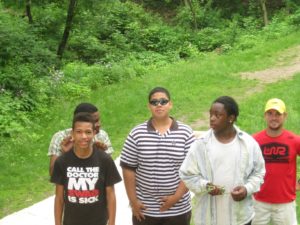 "They get good at doing this, they get quick at it, too," says Miller, looking out over the boys working. "Whoa, Ligarius, not that quick." The boys do manual labor, which generally consists of loosening dirt, putting down seeds, covering the dirt for stability, and digging "water bars" into the dirt to pull streams of water off the trails. These tasks stabilize the trails and encourage trail and grass health. Also, the boys bring their own music to listen to and discuss popular videos and songs as they work hard and swat mosquitoes.
"We're maintenance. That's basically what we do," explains Venjoseph as he drags a rake across a patch of dirt. "We fight mosquitoes," he continues. Along with the physical challenges presented by their labor, the boys are in a constant battle with Minnesota mosquitoes, and often take a momentary break from their labor to douse the air around them in bugspray. Pierre says his work is "fun, I hate the mosquitoes, though."
The job presents other challenges as well. "Once and awhile we have to dig out these huge rocks, we call them dinosaur eggs," says Tyrece, holding out his hands to the span of the rocks, which appear to be larger than his torso. But funny things happen, too: Venjoseph and Tyece excitedly recalled the time they had been seeding a hill on a rainy day and Venjoseph, bringing a tape measure down the hill, had slipped, and, ran in place at top speed before falling backwards into the mud. And funny moments aren't the only way the workers enjoy themselves: "We stay for the bike races every Wednesday after we set the trail," says Tyece.
"All we do is work like this, and listen to music," says Venjoseph. "We just started working, but if you come again in a few more weeks we'll have crazy stories." We at the Loppet are excited for the crazy stories of the workers' adventures, but also for the success stories of our workers, our trails, and our community. Visit The Loppet Foundation's website, www.loppet.org, for more information on Loppet programs and projects.