Fun, Fresh, Adventurous: Adventure Camp Update 2013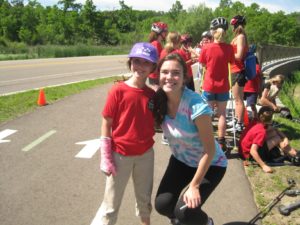 Rollerski time trials. Extreme canoe challenges. Plunges in the lake. Mountain biking. Trail runs. Is this the latest US Ski Team camp? Not quite. It's Loppet Adventure Camp at Theodore Wirth Park. Here, kids age 7-13 are leaving the couch behind and spending summer days getting sun-soaked and strong while making friends and enjoying the outdoors.
When asked what she likes about Adventure Camp, Amelia, age 11, replied, "It's really fun." Her friend, Jennifer Mettler, can't help but overhear this and jumps into the conversation: "DUH! That's, like, the biggest-ever duh." Aged 10 ½ ("The half is important," she clarifies), Jennifer is at Wirth this summer for her second Adventure Camp. Jennifer loves Adventure Camp, but has trouble picking a favorite part. "I'm quite a biker myself," she says, "But it's kind of impossible to choose favorites because it's all so cool. I can't wait to swim, especially on the hot days."
Adventure campers, divided into smaller groups with energetic young-adult leaders, are rotated between adventure sports, including rollerskiing (using shortened skis with wheels for year-round use), biking, canoeing in Wirth Lake, and enjoying local trails and playing games like capture the flag. Though kids' favorite parts of camp vary, they often include the people, being outside, and, as far as favorite activity goes, canoeing seems to win by a landslide.
Johann Schroeer, age 8, said, "I really like canoeing. And crashing with other boats." Katherine Halstead, age 8 ½, said her favorite part was "Canoeing, and I like the people that work here, because they're nice and helpful." The young-adult counselors keep the small groups of kids safe and on-task, both enforcing rules like wearing helmets and letting kids be creative and have fun, like letting a group of boys on rollerskis race a few who chose to just run. (To the surprise of many, the wheels actually did make a big difference.)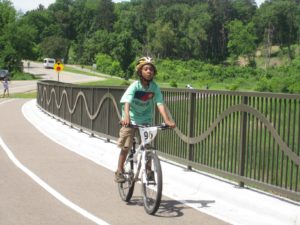 Aten-Wa Theba, age 8, said he liked that he got to go canoeing for the first time in his life, but also said he enjoyed "getting to bring my own bike, getting really cool lunches, and trading the flavor packets I get for my water." Kids spend the whole day together, breaking from the buzz of activities midday for a healthy and delicious picnic lunch.
"The activities make me work hard, and are fun," Johann said about the Loppet adventures. Tony Tchoda, age 13, said he likes Adventure Camp because "it's fun, and you have something to do, and it keeps you fit over the summer and not watching TV, and you get to be outside and experience new things."
The outdoor activities also translate well to skiing. When asked if rollerskiing and running were kind of similar to skiing, Aten-wa responded, "KINDA similar? They're REALLY similar." Jennifer Mettler is a skier as well as an Adventurer, and she sees the link between summer training and on-snow success: "I just LOVE to ski in the winter. I'm not as good at rollerskiing but the people who do it are the best in the winter. It's really good for technique."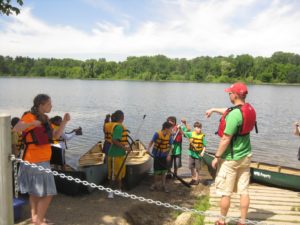 Loppet Adventurers also make friends and learn life skills, like getting back up to keep going after a fall or getting a scrape, being a good sport no matter how the race or game plays out, and even a little racing mentality. "It doesn't matter who's behind you, it matters what's in front of you," says Loppet camper Oliver Krawczyk, age 8, to a friend before a Loppet Adventure Camp rollerski mini-race. Just like Loppet Adventure kids always seem to look forward to the next activity (or snack), the Loppet Adventure staff looks forward to each new week of youth participants and watching them develop a lifelong love of the outdoors.