Riding to gliding – NSJ skiers earn bikes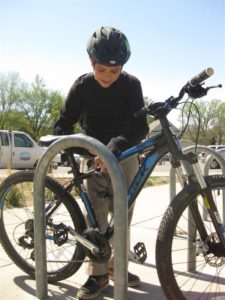 The Nellie Stone Johnson (NSJ) Ski Team assembled after school around the Loppet van and trailer planted in the parking lot.  Winter was a distant memory on this warm spring day.  The days of being bundled up and gliding were about to transform into sunny days of riding.
For the past two years, youth on the NSJ Ski Team have had an opportunity to "earn bikes" through their participation during the winter season.  Athletes knew their attendance, race participation, and work ethic would translate into points which could earn them a bike – a bike they could ride home and keep.  This year seven athletes on the NSJ Ski Team were awarded bicycles.
The NSJ Ski Team (which practices year round) is used to biking.  They mountain bike in the spring, summer and fall in Theodore Wirth Park, and participate in mountain bike races including the UCare Tri-Loppet and Fast Kids Mountain Bike Series.  They are fearless when it comes to overcoming obstacles on the trails – however bike commuting has remained uncharted territory.  Coaches hope that bike ownership will allow athletes to pedal to all the adventures the parks in their neighborhoods hold.
Coaches fitted each athlete with a bicycle, complete with lock and helmet.  They set the locks to combinations the kids would remember and initiated discussions about biker responsibility with questions like "When might you lock your bike up?"  "Where is the best place to keep your bike when you are at home?"  The youth located the schools' bike racks and practiced locking their new bikes there.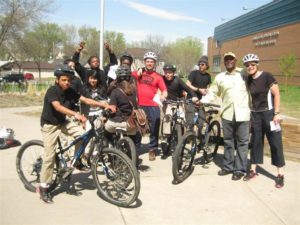 After circling the parking lot the team was ready to ride their bikes to their first destination – home!  Kids from the same neighborhood banded together – with each coach riding a small biker brigade home.   "We want to show the kids right off the bat how to use the bikes," said Coach Andrew who is an avid bike commuter himself.  "Most of these kids live pretty close to school so they should be able to ride here if they have the confidence and knowledge to do so."
So, clad in school uniforms with their backpacks on – they rode home.  Some live less than a mile from school – but one lived nine miles away!  Bryce Holte and his coach biked an hour to get home, with Bryce promptly plopping on the coach when he arrived.
Bryce and his teammates will continue summer riding with the Major Taylor Bike Club (primarily road riding), as well as their regular weekly mountain bike practices at Wirth.  If you know a youth interested in mountain biking, the Loppet Foundation runs Adventure Camps in the summer that gives kids, ages 9-13, the chance to try mountain biking, canoeing, capture the flag and other outdoor sports.  For more information about camp visit www.loppetadventurecamps.com or call the Loppet Foundation hotline at 612-604-5330.