Waffle Loppets… memories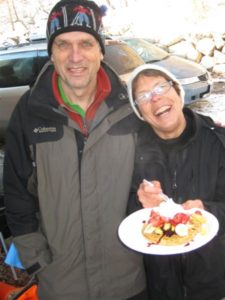 Do you ski to eat or eat to ski?  That question was answered on two occassions this winter when Loppet Foundation members gathered on the Wirth ski course for a fabulous eating… I mean skiing… event.  
"Who doesn't like waffles?" said chief waffle instigator Tony Mommsen.  Mommsen and his wife Kathy have been holding post ski waffle brunches among their friends for years – but were excited to push their homespun delight into the Loppet community.  "Waffles and skiing, they are really made for eachother." 
The Mommsons began planning for a series of waffle events at Wirth over the summer.  They tested waffle recipies, sought out the best waffle irons, and timed production to make sure skiers recieved hot waffles on the spot.  The first event was held in the Loppet office where skiers arrived after their workout to make their own waffles – topping them with bananas, strawberries and whipping cream.  The second event took place on the ski trail.   "Waffle elves" turned the timing shed into a piping hot waffle hut dolling out nearly 200 waffles over the course of the morning.  The only stipulation was you had to ski up to the window to recieve your waffle.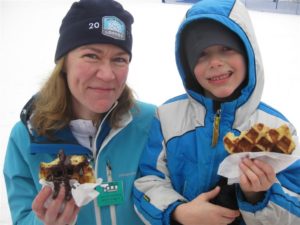 Sonia Krinke said that her son Trevor was "chanting waffles" during the ski.  "He was completely motivated by waffles on the trail." 
Most people left the event asking the same questions: "Can I have that waffle recipe?"  "When is the next Waffle Loppet?" and "Do I have chocolate on my face?" 
More Waffle Loppets next year!  If you are interested in joining the Waffle Planning Committee – please contact Tony at tonymommsen@gmail.com