The Loppet is not a loppet without lefse…

How did all that lefse make it to the Loppet?  A lefse rolling party!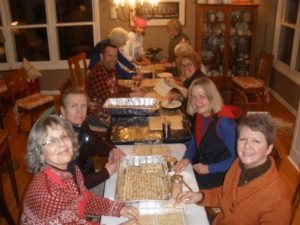 Invitation:
Greetings Team Lefse.  Please come around 6 but stretch and warm up your hands-wrists-forearms before you come to prevent lefse rolling syndrome, which afflicts thousands of Norwegians every year.  Its covered by Norwegian health care but the trip to Oslo would be prohibitive.
Please bring a brush which could spread melted butter and a shaker that could dispense a sugary mixture, if you have them.  If not Ingebretson's carries imported royalty approved lefse buttering and sugaring instruments, on sale as a Loppet special package for $59 this week only. Hurry over before they are gone, they are reportedly whizzing off the shelves.
Our friends at Fat Lorenzo's Pizza are donating pizza for our volunteer effort, with plentiful lutefisk/herring toppings.  Ya, you betcha we're gonna have a gud time.  
Sincerely – Ole and Lena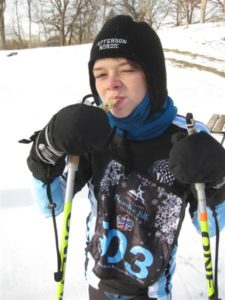 Thank you:
Greetings Team Lefse:  We watched with pride today as hundreds of hungry skiers' eyes opened wide as they approached the baskets of still tightly wound lefse at the racers' table following the Loppet races at Calhoun Square.  Hate to leave the fresh fruit and soup in the dust but it was clear that Mrs. Olson once again scored a culinary triumph.  We chatted with the company son Erik who says he appreciates all the support, still a lot of naysayers in the company up there (down there?) in Gondwick Minnesota.
Thanks again for a fun and whacky evening.  We also salvaged a cup of cinnamon/sugar from the floor sweeping afterward, mostly from where Maryanne was working. When our guests have cinnamon toast in the future, they will never know.
If you do not respond to this email within 24 hours, a reserved and non-refundable spot at "Lefse Rolling 2014—The Sequel" will be secured in your name.  And no, the first photo was not out of focus—that just shows how fast everyone was working!
Thanks so much for lending a hand (or two) Friday night—we had a ton of fun!
Sincerely – Ole and Lena
Mrs. Olson's Lefse is the official Loppet lefse sponsor.  You will be seeing the Norwegian dessert popping up at all Loppet events.  If you would like to hold lefse rolling parties in preparation for Loppet events, please contact remak@loppet.org to roll!.