Park Nicollet Luminary Loppet – A Fairy Tale on Isles…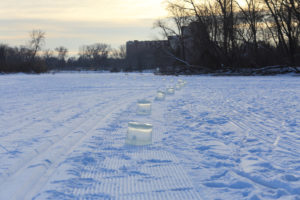 This year's Park Nicollet Luminary Loppet was a fairy tale in the making.  As dusk fell – so did the snow.  The mild evening produced perfect conditions for thousands of skiers to snake and pool onto the lake for a glorious evening of icy glow.
"You had the sense that this was what Lake of the Isles was like at the turn of the century," said one participant who was skiing the Luminary Loppet for the first time.  "Thousands of people dusted with snow, milling about in winter quiet and delight….  Kids playing, families and friends out together.  It was really something else."
Minneapolis residents of yesterday and today would have admired the icy feats on the trail: over 1,200 ice luminaries perfectly spaced around a three kilometer course, totems of ice filling out the nooks and crannies of the lake, the Enchanted Forest luring visitors beneath hundreds of lanterns suspended from the trees.  Walkers, skiers, and snowshoers converged to delight in this truly magical winter experience.
"Looking at the lake you'd think everyone in Minneapolis skied" said a Diane Carlson, a Loppet Foundation volunteer with the Adaptive Ski Program.  Carlson and friend, Cindy Lund, have been assisting 14 year old Kevin learn to use a sit-ski all season.  For the Luminary Loppet – Cindy used a harness to help Kevin move along the course with Diane guiding from behind between Kevin's enthusiastic pole plants.  They made it to the fire dancers which had everyone in the pack captivated.
The Luminary Loppet planning committee watched proudly as Mother Nature iced the cake sending down snow flurries as night set into the sky.  "Oh my God… It was my first year and no matter where I am in the world I am always coming back for that event!" said Dawn Pivec who was still mesmerized by the spectacle days after her evening on the ice.  "Since the Luminary Loppet – I'm addicted – I've been skiing every day since." 

"I live here," said Bill Dossett who, as a volunteer, oversees and manages all operations for the Loppet.  "I want to do this for the community."  The Luminary Loppet is a prized event for Minnesotans – a powerful assembly of tranquility and  joy on a cold winter's night.