Loppet Bearskin Weekend – March 14-17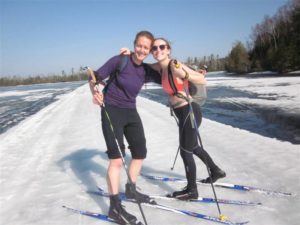 The Loppet is heading up to Bearskin Lodge for a weekend of SPRING skiing!
Join the Loppet Foundation members for the 2nd annual Loppet Bearskin Weekend – March 15-17.  Bearskin is offering members of the Loppet Foundation an additional 10% off their already discounted spring skiing specials.
March Specials:
3 nights for the price of 2
"dorm rate skiing" – 6 people in the lodge for the price of 4
10% off for Loppet Members
*All specials include a ski pass
Plan your own Trip: Make your own reservations, assemble your own group, and provide your own transportation.  When you make reservations, mention that you are member of the Loppet Foundation.  We hope to see you there.
Go with the Loppet!  If you are interested in going and want to share a cabin and carpool, please contact Ingrid at remak@loppet.org by next Wed, March 6.  We will be organizing carpools for Thursday March 14 and Friday March 15 – returning on Sunday March 17.  Once we confirm numbers in the cabins, we will finalize price details.  Expect to pay between $30-40 a night for lodging.
Whether you plan on going independently or with the Loppet Community- we will be having a potluck on Sat. March 16 with anyone who is there.  Yum!