Cook County Minne-Loppet skiers made it!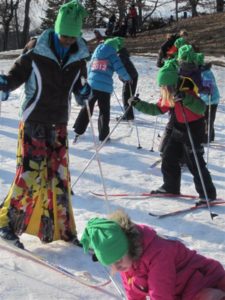 Kids who still hold adults hands when cross the street skied right though the red lights as they made the kilometer trek from the lagoon area, up the ramp and through the snow sculptures at Lake Calhoun and along Lake Street before finishing on Hennepin Ave.  But these kids hardly seemed to be aiming for the finish line.  They could see the cookies and hot chocolate waiting beyond their adoring coaches and fans.  
Over 500 youth, from toddlers to twelve year olds, participated in the Cook County Minne-Loppet, an event for young skiers and kids in the Loppet Foundation's Minne-Loppet Program.  The Loppet provides equipment, coaches and grooming to six Minneapolis elementary schools. Students ski on trails groomed right out their door and learn the fundamentals of skiing and nutrition. The eight week program ends with the Minne-Loppet youth ski event.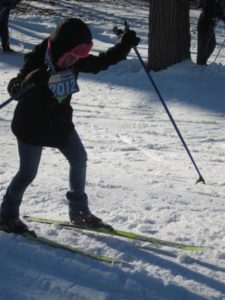 The Minne-Loppet race is the pinnacle event of the Minne-Loppet ski season and a much anticipated event among the participants.  "They remember it and look forward to doing it every year," said Minne-Loppet Program Director Margaret Adelsman.  
On race day, buses picked up parents and kids at their respective schools and brought them to the start line on the Lagoon.  Family members were invited to come along and walk along side their child during the event.  Kids had the option of the short course (1k) or long course (2k) before making a right hand turn on Hennepin Ave. to the finish where coaches and volunteers waited with open arms and crowned the accomplished skiers with moose antlers and a medal.