Adaptive Ski Program – new program a success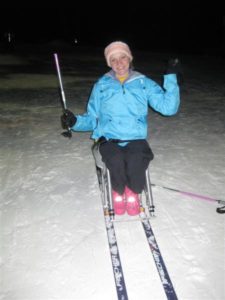 This year – the Loppet Foundation partnered with the Courage Center to start an Adaptive Cross Country Ski Program in Theodore Wirth Park.  Building off the momentum gained last year when the two groups co-hosted the International Paralympics Committee Nordic World Cup, the Courage Center and the Loppet Foundation began an inclusive cross country ski program that paired able bodied skiers with skiers needing assistance on the trails.   
Over the course of the winter, thirteen volunteers worked with eight athletes with varying degrees of mental and physical disabilities.  The Foundation paired standing, sitting, blind and autistic athletes with enthusiastic volunteers for one-on-one training sessions.  The first session was so successful that the Loppet Foundation and the Courage Center decided to provide a second four-week session.  Midway through the session athletes and volunteers participated in the Park Nicollet Luminary Loppet.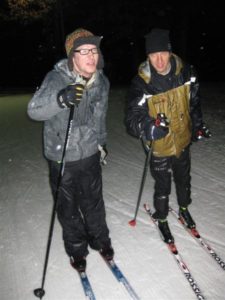 "Skiing seems to give Scott the space to think," said Steve Barrone, a volunteer who skied with Scott all season.  "You can tell that when he skis along he is getting lost in his own world".  "He loves it," said Scott's mother Michelle who hopes to help spread the word to some of Scott's community next year.
Rose Hallermann and Chuck Aoki, both summer Paralympic athletes, were able to participate in the program using sit-skis provided by the Foundation.  "I want to be a two season Paralympian," said Rose who took to skiing naturally, zooming around turns that marveled volunteers.  "It is amazing to see the sit-ski technology," said volunteer Kristin Harme.  Harme was excited to be part of a program that supported community inclusion. "Everyone really can have fun in the cold and snow together."
While some athletes joined the program with goals of competing, others joined hoping to learn a new sport.  "I wanted to try something wintry," said Eric Fanning whose friend saw the posting on Facebook and suggested the program to him.  "It is nice we have this many volunteers,"  said Fanning whose visual impairment would have made it impossible to ski alone.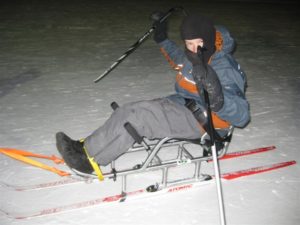 Midway through the season, volunteers and participants joined one another for the Park Nicollet Luminary Loppet.  Volunteers Diane Carlson and Cindy Lund used a skijor harness to assist 14 year old Kevin as they moved along the course enjoying the illuminated totems and fire dancers.
The Foundation is looking forward to expanding their adaptive programming in the summer with mountain biking.  If you are interested in participating or volunteering, please contact Ingrid at remak@loppet.org.