Trail Repair Day – Fri Jan 4th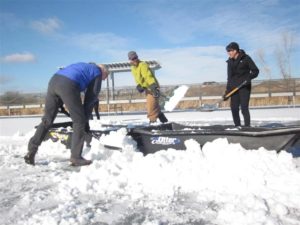 Come join us on this Friday, 10am-12:30pm, at Wirth Park for a shovelling party.  With the new snow, the "Back 40" and "Back 9"  ski trails are in pretty good shape with a few notable exceptions.   We are going to haul snow with snowmobiles to the few bad spots so they can be ready to go for Twin Cities Championships, Pre-Loppet, Super Tour, the Loppet, and regular-everyday- skiing.
We will meet at 10am at the bottom of the tubing hill-  we'll have some extra shovels, but it would be best if you bring your own.  Coal shovels or snow shovels are the best.  If you arrive late call one of us and we'll tell you where to meet us:
Piotr Bednarski 952 237 0765
Mike Erickson 612/701-2508
A few hours of patching will give us a great 8 km loop on the chalet side of the road-   please RSVP to bednarski@loppet.org  if you can come.