Hand Crafted Loppet Awards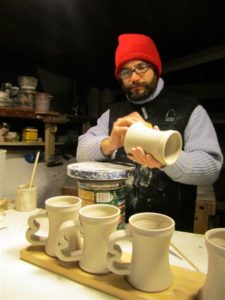 This year, the Loppet is celebrating its home spun ski course with hand crafted awards. Working with local potter Christopher Malec, 144 handmade steins will be presented to award winners at the 2013 City of Lakes Loppet.
In the past, the Loppet Freestyle and Hoigaard's Classic participants were awarded bells made in Austria.  While the cow bells became symbolic of the Loppet – they were not representative of Minnesota.  Jenni O'Link, who oversees awards for Loppet events proposed that awards could be something that showcased local artists and give the event a deeper Minnesotan connection.
With this idea in mind, the Loppet Foundation sought out area ceramicists to produce one of a kind cermaic steins as awards for the event.   Chris Malec, a MN potter and teacher, submitted prototypes of his work which had the office enthused.  Chris's craftsmanship earned him the title of Loppet potter of the year – and he will be making custom stamped Loppet steins for both the City of Lakes Loppet and the Surly Trail Loppet.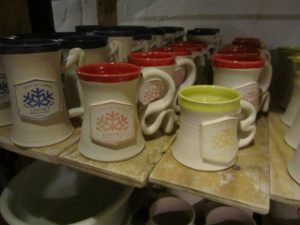 "We needed someone who could throw large amounts of pottery, but also sink their own creative twist into the work," said Ingrid Remak, Outreach Coordinator for the Loppet Foundation.  The office was so pleased with the awards that they uped the order and asked Chris to make pieces for top finishers of most Loppet events.
As the awards order climbed, Chris was not daunted – although he later admitted, "it was not uncommon to be up until 2:00am working on these pieces…  I did not realize the scope of the Loppet Foundation and all of the events that it puts on throughout the year."  Chris has meditated many a night over the project, and will join the Foundation at the awards presentation.  "I hope that people enjoy drinking out of these mugs long after the race is done," he said.
They may be steins – but they are good for beer, water, or one huge glass of hot cocoa… Come see the unique pieces at the Loppet Awards Ceremony – 3:00 pm Comedy Sportz Stage.
Chris makes custom pottery orders and can be reached at:  malecpottery.wordpress.com