Ski to Yoga! Jan. 6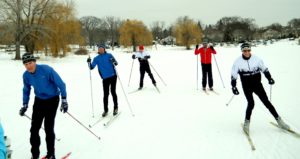 No better way to follow-up a COOL afternoon ski than with some HOT yoga!
The Loppet Foundation is partnering with Moksha Yoga for a warm-up cool down post afternoon ski.
Loppet Ski:

Time: Meet at noon
Location: Wirth Beach Parking Lot
Plan: go for a 1 1/2 hour ski in Wirth Park trails.

Moksha Yoga

Time: 2:00pm
Location: Moksha Yoga (Calhoun Village)
Special: 1 free yoga class for Loppet Members, plus $10 off a month membership
This is open to Loppet Foundation Members only.  Please RVSP here, and encourage your friends to become Foundation Members as well!