Loppet Posters – hot off the press!

Every year the design firm Duffy and Partners unveils a new and exciting  poster that becomes the face of the Loppet.  Forging ahead with new design patterns, this year's limited edition poster paints a picture (literally) of the unique 2012-2013 City of Lakes Loppet and ski season to come. 
Get your own poster!  Posters will be available for purchase in the Loppet office.  Please contract Monika at hegley@cityoflakesloppet.com to arrange a pick-up time.
Designer Joseph Duffy (the younger of the father-son team) describes the poster making process: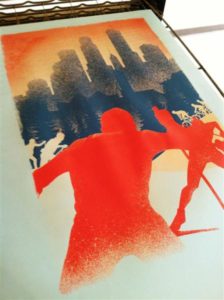 Who designs the poster every year? We like to assign this project to our newest design intern. It's a great way for them to work on a less stressful project and possibly subject them to a new form of production in screen printing.  This is our 5th poster total but our 4th in the "hand screen print collectors" series. 
What do you like best about the limited edition prints?  The best part of these prints is that no 2 prints are exactly alike. There are so many imperfections and beautiful little "accidents" that you cannot foresee prior to pulling the screens. They are each numbered and signed by the artist and are truly a limited edition as once they're done printing, they will never be reprinted again.
How are the prints made? These are all hand done. In the past we have worked with a professional screen printer but the artist has always been involved as well. This year's artist, Jesse Lindhorst, is an experienced screen printer and has chose to do all the printing himself. The process takes about 6.5 hours per color. This year's poster is a four color job and due to it's large size, it has required two people to pull each pass of the screen. You'd be amazed at what a toll this takes on the body. Jesse has been sore for weeks.