NSJ Returns from Rainbow Resort

Six twelve-year-old boys, three coaches, 48 hours…
Written by Coach Audrey Weber
Going on a weekend ski trip with six rowdy pre-teens just before Christmas is a daunting task.   Friday afternoon Coaches Andrew Magill, Jonathan Miller and I picked up a rambunctious group of six boys from the Nellie Stone Johnson Middle School ski team who were fresh out of school for winter break,. Their energy was high at the prospect of spending a weekend away from home skiing. We battled the holiday traffic out of the cities and headed north to Rainbow Resort near Park Rapids in Waubun, Minnesota. Five hours was a long time to spend in the car, but they managed to pass the time playing 20 questions and having rap battles complete with beats and original rhymes.
Upon arrival they set out with Andrew and Jon for a night hike while dinner was being prepared. Their task was to search out the resort grounds for any signs of "Grendal," as lore has it that he inhabits these parts.  Once the grounds were deemed secure, the team enjoyed spaghetti dinner. One of the emphases of this weekend was on nutritious, balanced eating, thus the meal included lean ground beef, sliced bell peppers, and apples.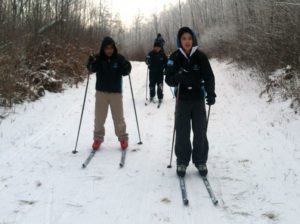 Saturday morning greeted us with lovely weather and we headed out early for a ski on the Rainbow Resort trails. Despite only a couple inches of snow on the ground, the grassy trails made for great rock skiing.   The scenery was a beautiful frosted wonderland, which was a new sight for some team members.  We all worked on skiing at a consistent pace and skied for a solid 90 minutes.  Lessons learned on the outing included how to keep yourself warm on the ski trail by moving your body and wearing proper clothing. And when they got tired, they showed fortitude in order to get themselves around the loop. Li'tavius Munn said he liked the ski trails "because they were long." He led the pack along with Bryce Holt.
After warming up in our cozy cabin post-ski, the boys headed out for a pre-lunch ski on the ice.  The smooth gliding surface was a great place to play and practice going at high speed. Lunch presented more novel options for the kids including pea pods, hummus, pistachios, sting cheese, and pomegranates.
The highlight of the afternoon was using the resort's game room to play Jenga and pool. For a few, pool was a new game and they took to it quickly.  We went for a ski at dusk to preview the course for Sunday morning's West Itasca race, which was to be held on the lake due to the snow shortage. Skiing on the lake was exciting because of all the booms and pops the ice was making. After reassuring the team that it was not the sound of the ice breaking, coach Andrew challenged the team to see who could be the first to make it two times around the 2.5k loop for $5. While others gave in due to the cold and wind, Li'tavius Munn rose to the top by steadily working his way around the trail.  True to his word, coach Andrew paid up and Li'tavius was set to play pool in the game room to his heart's content.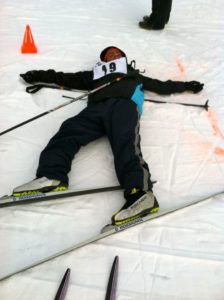 Dinner was chicken tacos, sautéed peppers, black beans, and fruit salad. After three ski sessions in a day, everyone had a healthy appetite.After dinner entertainment featured a bon fire, roasted marshmallows and the movie Cool Runnings. The coaches were all pleased and impressed that the whole group sat still and followed the entire movie. It seemed to provide inspiration and fired up their Olympic spirit for their race in the morning.
Everyone slept soundly and woke up early for a traditional skier breakfast of oatmeal garnished by blueberries, nuts, and Greek yogurt.  It was a brisk zero degrees out, so we practiced what we learned the day before and made sure to wear warm hats and gloves.  Coach Jon quelled everyone's nerves by saying that someone on the team was guaranteed to win the kids division and there would be prizes.  The race went off at 10 o'clock sharp with a 5k skate division and 20k classic division. Everyone skated the 5k except Coach Jon, who for some reason wanted to double pole 8 laps around a lake.
The race for first place on the team came down to sprint between Bryce Holt and Li'tavius Munn. Bryce took and early lead in the race, but Li'tavius set a steady pace and nipped him at the line. Everyone on the team put forth great effort in completing all two laps, cheering on their teammates, and skiing along with those who were still finishing. For Adolfo Domiguez it was his first ski race. He said the race felt really long and he was tired and cold by the end.  After the race we had a quick lunch, packed up, and hit the road for home.  It will be fun to get back to our home trails at Wirth to put our improved ski skills to the test.