Anwatin Tryouts – Bounding Away!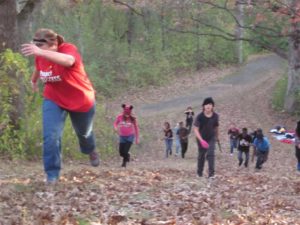 The hoots and hollers would be head between the branches for the past two weeks as the woods behind Anwatin Middle School have come alive with skiers. "You are the group that goes into the hills," remarked a young student as they passed by the large group traipsing around with poles. Hill bounding, pole hikes, adventure runs and rollerskiing are among the many activities the anxious middle schoolers have launched into over the past month during the Anwatin Ski Team tryouts.
"We have about 30 kids at tryouts," said Coach Allie Rykken who is returning for her second season. "And there are nine girls!" Two eighth grade girls from years past have returned and are rollerskiing again with grace and ease. "These girls have a lot of natural balance. If they stick with it they will be good skiers," said Rykken who was happy to welcome back the skiers, but made it clear that all athletes, new and returning, have to tryout all the same.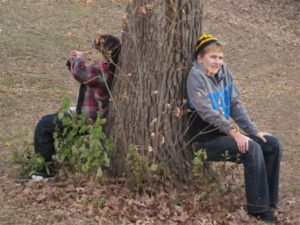 While Rykken has recruited through flyering, lunch hour presentations and alerting the students' teachers, she had relied mostly on the returning skiers themselves to spread the word about the team. "I told all my friends to come," said one of the athletes to his coach. "I think they mostly recruit by telling one another about the team trip. They are excited to ski, but things like "an outdoor hot tub" seem to light up their eyes even more," smiled Rykken who admitted that she too is looking forward to the trip… and the hot tub. "They are excited about the broader experience. It is the ambiance they are excited about and I think that is pretty cool."
Rykken will host one more week of tryouts before narrowing the team to 20 athletes. This week the group divided into new and returning athletes and did workouts tailored for each group. "Tryouts are great. It is a time for the athletes to test us out and for us to test them out," Rykken explained. Several of the athletes that trained throughout the summer are returning with fitness and technique levels considerably higher than their classmates. "I think the more competitive ones are excited to show off their training," said Rykken. This makes for a wide span of abilities on the team but has provided some leadership opportunities for the accelerated youth.
Rykken has witnessed friendships grow among the athletes that crosses fitness, technique and age lines. "I am eager to work with this new crew. It seems like they want to be there and learn." One more week of dryland to wake up those ski muscles and then, as the Anwatin skiers say, "LET IT SNOW!"