Hoigaard's Challenge and Volunteer Awards Banquet – Sept 26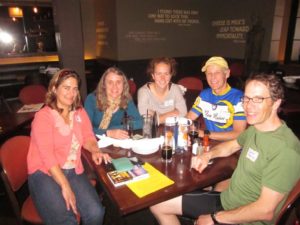 Few choose to embark on the journey… fewer still finish… but all who do have a flippin' fun time! 
Join us for an evening of recognizing those who have completed the Hoigaard's Challenge (individulas who have competed in all three Loppet events in one year) and celebrate those who have volunteered significantly throughout the year at the first annunal Hoigaard's Challenge and Volunteer Awards Banquet.
Wednesday September 26th
(Awards begin at 7:30pm)
Hoigaard's Challenge Participants receive a commemorative pin for their accomplishments.  Participants who earned age class category recognition will be honored and have their names inscribed on paddles displayed in the Loppet office.  The overall winners of the competitive category will be presented with winning trips to Bearskin Lodge, and there will be a random drawing for another trip to among all participants.  The evening will also consist of awards and recognition of various Loppet Volunteers of the Year as they have contributed to both Stewardship and Events and Loppet Adventures.  It will be a night to honor all the folks that make Loppet events fun, competitive and possible.
Family and friends are welcome to join.  The dinner is free for participants, $15 for Foundation Members and $30 for all others.
You MUST register by Friday Septemeber 21. 
RSVP here
.  There is a $10 fee added to all reservations placed after this date.
We hope you can make it!