Get out and Practice – Trail Loppet Course is Mowed and Marked!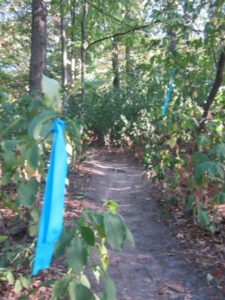 If you feel so inclined to take a trot on the Trail Loppet race course before the event, now is your chance.  The Trail Loppet Chiefs of course have been busy marking the trails attempting to give runners a sneak peak at what they will be up against on Saturday.  "We wanted to get the markings up in advance so folks would have a chance to put together all the parts of the park they've been training on" said Race Director Mike Erickson who has marked the entirety of the course with blue ribbon. 
The course is tricky to follow; a meandering maze that connects almost every ounce of runnable terrain in Theodore Wirth Park.  "It's funny, you can run for hours out here and stay almost completely in the woods, but at the same time you're never more than a few blocks from the road," said Foundation Director John Munger who envision a half marathon linking together his favorite trails in Wirth Park six years ago.
When you go out to run, look for the blue ribbon markings in the trail, and bring a map.  While the entirety of the trail has been marked, sometimes the ribbons fall or have been removed or mowed down.  But even if you just get to run part of the trail, it's Wirth it.  "Even though the trail is hard to follow, I would get in a run or two if you can," said Erickson.   "Although some of those hills, hmmmm… you may only want to see those once,"  he added with a chuckle.