What ski group do I choose? – Loppet Adult Program Information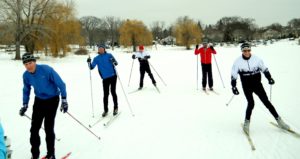 Once upon a time you may have participated in some facet of Loppet Ski and/or Dryland programs. Others of you are new to skiing.  Either way, we're excited to see you skiing in Theodore Wirth Park!
As you may have noticed – the Loppet Foundation has grown leaps and bounds over the past several years.  To provide the best skiing experience to the community, the Loppet Foundation has expanded adult ski programming into two main areas: Loppet Nordic Racing and the Loppet Ski Club. Here is what you need to know to select your Loppet ski program for the upcoming year:
These programs are run by Loppet Head Coach Piotr Bednarski and an team of post collegiate and national racers. These programs are designed for all levels of skiers who are interested in small group training focused on both physical and technical improvement with aspirations of racing. There are groups available for both dryland and rollerskiing in the fall, and skate and classic in the winter. Beginner to advanced options available.
The original ski group of the Loppet Foundation, the Loppet Ski Club represents a community of lifelong skiers who gather year round with one another to recreate and enjoy the meditations, exhilarations and philosophies of the trails. New skiers and experienced skies are invited to join this group. During the ski season multiple facilitators lead technique-focused workouts tailored to fit all abilities. The group meets in the fall for weekly pole hikes, and bi-weekly beginning in November. Winter sessions also include lectures and presentations by some of the areas skiing greats, as well as video recording.
So – now you are saying, "But I just want to find the group I trained with last year…." Here are some clues:
Additionally – there are multiple new options to explore. We now offer beginners groups, a women's only group, small intermediate ski groups, and "Wave-1" higher level training options. Check them out!
Some things never change: you still need to become a Foundation Member to join any of the ski programs, and we will still have great potlucks.
Let it snow!