Muscles in the making – LNR High Volume Camp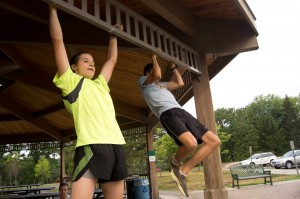 High Volume Camp – An original LNR production in the North woods of Wisconsin.
Written by Allie Rykken, Anwatin Ski Team Coach
Scene: Killer mountain bike trails (not literally, but I was fearful at times), winding trails on which to frolic, and roads so rolling and smooth for rollerskiing you could close your eyes and dream you were Chad Geise (or whoever). Home base: A cabin would have been great, but this lake home provided by Nicole Schneider and family was stunning. Located on Lake Namekagon, there was swimming and pontoon rides (for AFTER practice), a luxurious bed or couch for everyone and a spacious kitchen shaped just right for curious campers to gather around and applaud Chef Piotr's oatmeal cooking mastery.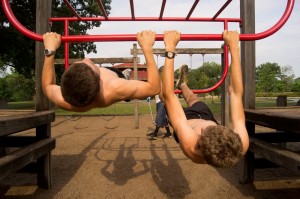 Cast of Characters: The crew consisted of: three hard-core high school ladies (all very kind and unsuspectingly rockets on skis), four high school boys (whom I never saw because they too are SO FAST) and five middle school boys (three from the Anwatin Ski Team) who amped it up to hang with these older althletes.  For many of them it was their first major training camp and took the workouts like champs. The most whining I heard out of any of them was a weak smile and a "Yeah, I'm a little tired."
I was fortunate to come along on this trip in the company of Coach Sara Morse, who has pro written all over her and still makes me chuckle just thinking of her. Then of course there's the one and only coach Piotr, who my Anwatin boys are convinced never sleeps and stays up all night training and scheming (obviously a good sign of an intimidating coach.) That theory may not be too far off…
A Recipe for a Good Night's Sleep:
On Monday, we settled into our castle and pulled out a three hour bike ride around the Rock Lake trails. As this was supposed to be a warm-up day, I made a mental note to buckle up for the next four days.
Tuesday and Wednesday, we woke up and went for a early run, ate some heartwarming oatmeal and cranked out rollerski intervals for a couple hours. On Wednesday in particular, we found a hill on County Rd D that made Piotr downright gleeful. "Isn't this great??" In the afternoons, we explored the Makwa and Ojibwe mountain bike trails of 00 and Telemark for a few hours. I was impressed at the renewed energy everyone had once they hopped on their bikes.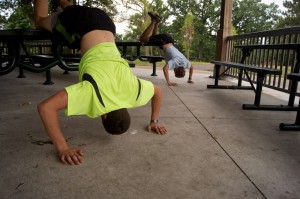 Thursday was our Eco-Challenge day. We started out running on the North Country Trail, which is a beautiful single-track hiking trail and should have taken about an hour and a half to run to our point-to-point destination, had we not gone in the complete opposite direction. (Unfortunately, I was in charge of directions and failed miserably.) However, after a surge of guilt and some swift hitchhiking, a rescue minivan scooped up the remaining lost runners and relocated to the rollerskiing checkpoint. Rollerskiing went much smoother and soon we had cruised up to our lunch break/mountain biking checkpoint. The goal was to get to Seeley and though every group took a slightly different path, we all made it there by dinnertime. Before the Challenge began, teams had to estimate how long the event would take. The older boys group won by guessing 8 hours and taking 7 hours and 45 minutes. (I think the getting lost helped.) Not a bad training day. We celebrated with the best pizza around at Rivers Eatery in Cable.
Friday morning, we capped the week off with a very pleasant rollerski on the newly paved Lake Owen Drive and drove back to the Cities.
How does it end? Piotr was impressed with the skier's efforts over the week. Before the trip, he said that skiers come out of these camps a slightly different person and I have to agree. I think we can all say we're a bit stronger, more confident, adventurous and excited about training than before. So bring on the fall and bring on the snow! These Loppet Nordic Racers are ready.