Mountain Bike to Mountain Bike – Urban Trail Adventure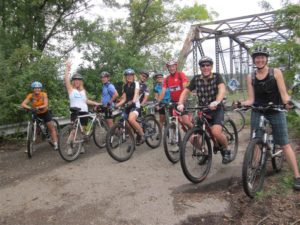 Converging in the misty dawn last Sunday morning, a group of eleven cyclists were about to embark on a new recreational concept: mountain bike to mountain bike. Deciding to make the journey part of the activity, a Loppet Outing was organized to bike to the popular mountain biking trails at Lebanon Hills. While many in the group had ridden the trails at Lebanon Hills, none had previously biked to the destination.
Several mountain bikers in the community recommended a route that began from Fort Snelling and crossed the Mendota Bridge to get to Lebanon Hills. From there the group would cross over to the Minnesota River Valley via the Power line Trail, and bike back home over the 494 bridge.
Traveling on mountain bikes kept the varied group close on the urban roads. The group finally arrived at Lebanon to see a brand new Welcome Center, a skills course offering obstacles for all abilities, as well as muddy trails and MORC member informing us that the "course was closed". Rats! Who knew it rained so much in Eagan overnight?
The message was a disappointing but not disheartening. The group refueled with bananas and granola bars and hopped on their wheels to hit the River Bottoms. Descending below the Cedar Avenue Bridge, the group biked up to the old Bloomington Bridge, and then hit the double track trails paralleling the Minnesota River. These trails are often underwater and inaccessible when the river floods, however conditions were perfect for biking and the scenery was stunning; the forest understory was a sea of woodland sunflowers and golden rod.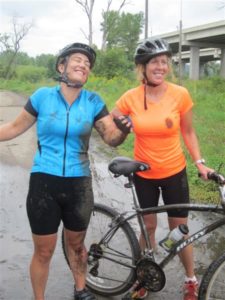 "The mission of the Loppet is to promote a connection between community and healthy outdoor activity," said Joel Woodward who is one of the coaches for the new high school mountain bike league. "It was great to see an event that pulled together folks who were all connected with the Loppet but in different ways."
The conversation and camaraderie on the ride was only interrupted once when Cynthia Osterling slipped on a slick patch of mud near the Minnesota River. Mary Bolla, who was following close behind, performed a head over bike maneuver that sent her and her bike toppling over and missing Cynthia on the ground. All were dashed with mud but emerged from the incident unharmed and smiling
The group hopes to do more "Mountain Bike to Mountain Bike" rides in the future including: Lebanon Hills (when it is open), Murphy Hanrahan, Terrace Oaks and more River Bottoms Trails. If you are interested in leading a ride, please contact Ingrid at remak@cityoflakesloppet.com.