Surly Trail Loppet Tops Out – FULL!

The pain of the Trail Loppet is being felt by many these days- especially those who have missed their opportunity to sign-up to race.
"I didn't realize the half was going to close so early. I so look forward to this race, and I wanted to complete the Hoigaard's Challenge. Please, please can I have an exemption and still register? I'll pay a bribe, I'll babysit, I'll walk your dog… Please?" Such was the plea of Hoigaard's Challenge contender David Mataya after seeing the Half Marathon event appear "full" on the website.
The Surly Trail Loppet – now in its sixth year – has filled to the brim. Margaret Adelsman, who has been tracking Trail Loppet numbers throughout the month, announced to the office today that the "Finn Sisu 5 K has just flipped to full. That's it – we're officially closed for business."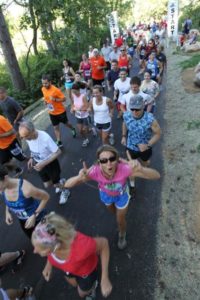 The phones keep ringing with racers in disbelief that the event has filled. "The Surly Trail Loppet is a lot more Trail-y than most trail runs," said past participant Jeff Van Wychen who was bummed to miss the window to enter the half marathon. With no other urban trail run like it, both returning and new athletes are disappointed. However the Loppet Foundation is committed to keeping numbers capped to avoid an over congested course.
"I've been trail running for the last 15 years and the scene in the twin cities has grown dramatically in that time.  I always see other people out running when I'm on the trails these days; it is becoming
much more social."commented avid runner Kevin Johnson who won the Finn Sisu 5K last year.
"It's mind boggling" said Race Director Mike Erickson who has had to craft changes to the race format to accommodate the influx of runners. Racers will now be dispatched in three waves, aid stations will need two shifts of volunteers, and Surly has been warned to bring in beverage reserves. "No one goes thirsty," said Surly Events Coordinator Mary Sellke.
If you have missed registering for an event – sign up as a volunteer! Contact Kristin at Klaustermeier@cityoflakesloppet.com to play an integral role in making the race possible.