Loppet Adventure Camp – Receives a Special Guest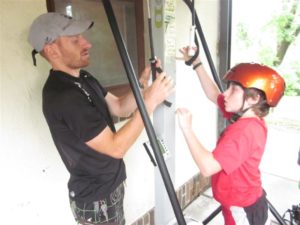 Participants at Adventure Camp have been in for a treat. Brian Gregg – a local cross-country Olympic hopeful – has been frequenting Adventure Camp over the past five days to mountain bike and roller ski with the youth.
"Brian has quite a following at camp," said Camp Director Allie Rykken. "One day he brought in some cards he had as promotional material highlighting his Olympic pursuit and the kids were pretty excited. Now they know what a good athlete he is, and they tend to follow his lead."
Although Gregg mountain bikes, he has primarily stationed himself with the roller skis. "These kids are tough!" he said shaking his head and complimenting the participants on their performance. "Roller skiing is not easy, and they are tackling it with a lot of resilience and enthusiasm. I know I would not have been that tough when I was a kid."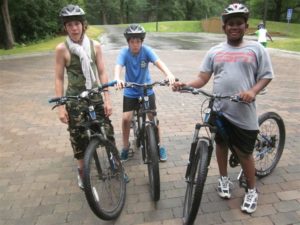 Adventure Camp participant Cedric Williams, said that two years ago when he first attended camp, his favorite activity was canoeing. "Now my favorite activity if roller skiing. I want to ski in the winter time."
But whether roller skiing or mountain biking, Gregg is using his newfound celebrity status to encourage the youth to push their physical comfort zones. Brian got a group of participants fired up to ride up the long grassy hill leading to the Picnic Pavilion. Cedric was a part of that group. By the time he reached the top he was out of breath with an empty tank, but satisfied and smiling.
Gregg, a resident of North Minneapolis himself, has helped make skiing more accessible to his immediate community.  He and his wife Caitlin introduced the neighborhood youth to rollerskiing, and would leave fruit, running shoes and a running log on their porch so kids could chart how much they excersized. Quinn Bailey was one of the youth who came down with "ski fever" as a result of the informal neighborhood program.  As a result, Quinn hopes to go out for the Antwain Ski Team in the fall assuring Coach Rykken that the Gregg's have made him, "really good with poles."