Hoigaard's Challenge- winners will be decided at Surly Trail Loppet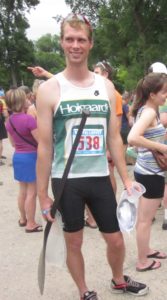 Hoigaard's Challenge to be decided at Surly Trail Loppet
Athletes who compete in all three Loppet events – the Loppet, Tri-Loppet and Trail Loppet – vie for the Hoigaard's Challenge title and a trip to Bearskin Lodge on the Gunflint Trail. After two events the competition has come into focus. On the men's side, Dave Nelson has a commanding three-minute lead, but Erik Hendrickson, Andrew Tilman, Chris Sachs and 2011 champion Craig Cardinal are all within striking distance. While Cardinal is the furthest out of the lead – 6:01 – he is probably the strongest runner, which should make for some drama at the Trail Loppet.
"It's not looking good for me," lamented Nelson. "Craig [Cardinal] is a really fast runner. I've got my work cut out for me this summer – Craig beat me by over five minutes in the 5K at the Tri-Loppet . . ."
On the women's side, the Challenge comes down to perennial contender Jan Guenther of Gear West Ski Shop fame, and former champion Kim Rudd, who sits in second place, some 3:20 back of Guenther. Both women play down their chances – but it should be a good duel at the Trail Loppet.
You too can compete in the Hoigaard's Challenge!  Particpate in all three events and receive:
commemorative Hoigaard's Challenge participation pin
chance to earn age class recognition and your name engraved on the trophy paddles in Loppet office
entered in a drawing to win a trip to Bearskin Lodge on the North Shore
Hoigaard's Challenge participation dinner: Wednesday September 27, 6:30pm-8:30pm Urban Eatery
Click here to find the Current Hoigaard's Challenge Standings