2012 Trail Loppet a Surly Lovers Paradise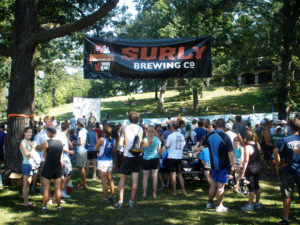 For those who love Surly Beer this year's Trail Loppet promises to be the best ever. Each finisher receives a Surly Beer and there is more to purchase if the one beer is not enough. On top of that, Surly is doing door prize drawings for tickets to SurlyFest – which is happening later in the day on Saturday. Finally, the Surlyest Runner wins a set of tickets to SurlyFest as well. Who is Surlyest runner? This is the person who the crowd determines is the most deserving of this prestigious award – usually based upon how "messed up" the person ends up after running the race. Some of the attributes that seem to help: mud and blood. Presumably a broken bone would get some points as well – but this is completely crowd determined . . .
Hope to see you at the Surly Trail Loppet – where the run is just the start of the fun!