Memories… The Anwatin Ski Team celebrates the season with a banquet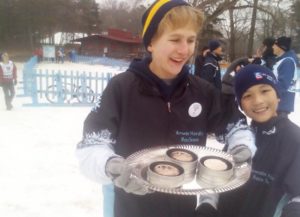 With the snow long gone- the Anwatin Ski Team reunited Tuesday evening for a delicious potluck dinner to reminisce over the past ski season and unveil the plans for the exciting Loppet Juniors Summer Program to come.
Skiers, along with parents and siblings, assembled in the Antwain cafeteria to hear from coaches about "the great snow-less winter of 2012". Despite the lack of snow- the coaches highlighted the unique opportunities the Anwatin skiers had this year. "I would say racing in the two biathlon competitions, our winter training trip to Rainbow Resort, and attending the Paralympics were the main highlights of our season," said Coach Rykken. She thanked the participants for persevering through the un-naturally warm weather, and promised parents who were attending that Mother Nature will deliver more snow next year. "We can't have a snow season crummier than this one," Rykken laughed.
The slide show that followed captured the team as they trained from October through March. Photos included the team pole bounding in Eloise Butler, playing frisbee in the Anwatin field, and even captured them in the blur of mid-season potato sack racing. The photos eventually moved to more snow and showed the skiers as they practiced, raced, and aimed on the biathlon range throughout the season.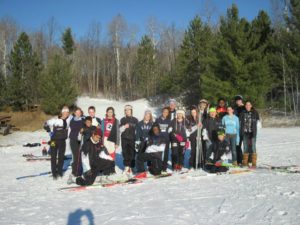 Allie wrapped up the banquet by collecting post-season surveys from both the skiers and their parents. When asked to explain their favorite part of being on the Anwatin Ski Team, the kids were able to whittle their thoughts down to a single answer. "They all wrote 'Skiing!' " Rykken remarked. You can't say it much better than that.
With that said- the team is pumped for their summer months in Wirth. "When I told them we were having a two week break between winter and summer seasons- they were disappointed," said Rykken who needed a few weeks to remove the klister from the skis get the mountain bikes greased up and ready to ride. The team will enjoy a summer filled with mountain biking, trail running, roller skiing, other ski related activities, and games.
The Anwatin Ski Team is looking forward to join forces with the Nellie Stone Ski Team for combined summer practices, part of the Loppet Juniors Program. Practices will be held Monday, Wednesday, Friday, 4:30pm-6:00pm. Younger siblings are welcome to come to the Monday and Friday practices. Those attending 16 practices are eligible to go on a kayaking adventure on the Brule River in Wisconsin (May 26-28).