Friday Field Trip – Anwatin heads to Elk River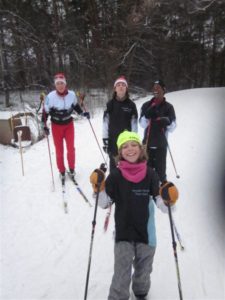 On Friday morning- when most Minneapolis kids were sleeping in on their day off from school, the Anwatin Ski Team was suiting up for snow. "We wanted to get out of the city and were looking for a place with woods and trails," said Coach Rykken. Bursting with enthusiasm for their skiing field trip- nine members of the Anwatin Ski Team loaded up their gear and headed to Elk River for an afternoon on the trails.
"We were going to go there on Sunday do the biathlon race anyway, so making the trek seemed appropriate," said Rykken who was as excited as the team was to ski beyond the loop at Wirth. "They were immediately entranced by the biathlon range," she added. All the kids on the team had experienced biathlon first hand earlier in the season on their winter training trip where they participated in a biathlon competition at Mt. Itasca State Park. Muaj Xiong was eager to hit the range and began demonstrating his marksmanship abilities with his poles. Coach Rykken and assistant coach Mary Luoma assured the kids they would get to use all the equipment in a few days, and coaxed them back onto the trails.
Elk River provided extensive kilometers of exploration for the team. Tackling the black diamond section of course the team encountered hilltops marked with signage that included "Top of the World" and roller coaster ride descents. Anwatin dove whole heartedly into the exciting undulating course. While lining up behind one another to try their luck at some turbo downhill runs, Jezir Bradley enthusiastically resolved, "that's the best hill yet!" At one point the groomed trail disappeared into uncharted woodland territory. That only enticed the team to push forward further where they experienced the joys of bush-waking and back country skiing for the first time this season.
The group stopped mid-way through their day for a quick afternoon lunch before continuing on the trails. "The kids self select themselves into smaller skiing groups or skking duos throughout the day," observed Rykken. "They will join certain kids who are done eating, or want to explore a certain trail." The group continued to cram in the kilometers before heading home on Friday afternoon. It will be hard to find a field trip that can top this one…