Patriot Power! Henry High School skiing program grows.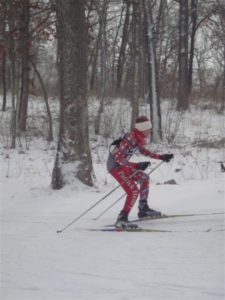 Amidst the swarms of orange and purple making up the South, Southwest and Washburn high school ski teams, a few blazing red suits can be spotted in the crowd. Patrick Henry High School in North Minneapolis has been making a name for themselves on the rolling hills of Wirth- by the power of two. While some high schools boast Nordic Ski team roosters toppling one hundred, Joe Clifton and Mike Xiong make up one of the smallest programs in the state. "They've got a lot of determination to ski when they don't have the overwhelming support of teammates or student body. But the fact that these two are sticking with it is a testament to their spirit and drive. From that energy the program is bound to grow," said Nordic Ski Foundation director John Munger.
Both Joe and Mike are accomplished athletes. Joe is a marathoner at heart, but decided to ski as a freshman at the suggestion of his father. This year as a sophomore, he won the Twin Cities Conference Distance Challenge at Wirth. Mike, currently a freshman at Henry, learned to ski on the Anwatin Middle School Team. This has been his first experience racing against older and more experienced competition.
In the early weeks of the ski season, Mike and Joe ran and trained on their own. However, the advent of snow brought the Patriots to Wirth where they teamed up with Washburn for coaching. Eric Adams, the coach at Washburn welcomed the Patriots to join his squad- who said the coaching collaboration has been a great union. "Mike and Joe are exceptional athletes and real team players. They come to our pasta parties and practice with our team- but they fully represent Henry on the trails."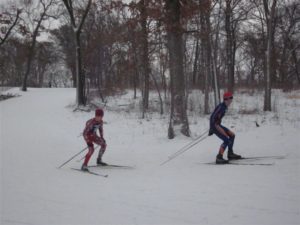 While Mike and Joe enjoy the camaraderie they experience with the Washburn team, they are hopeful the Henry Program will begin to reestablish itself. Joe, who skied solo last year, has enjoyed having another teammate he can see in the halls. "It is nice to have classmates that ski and to have that connection in school." Mike is confident that 5 of his former teammates on the Anwatin Ski Team, and his brother, will ski for Henry next year. Henry's Athletic Director, Guillaume Paek, used to teach at Anwatin and knows the strength of the ski program there. Paek concurred that he is enthusiastic to see the program grow. Joe chimed in that if his friends can get over their dislike for cold, Henry is equipped with rental skis to run a solid program.
Hopefully there will be more skiers joining the Patriot ranks in the future. With the Nordic Ski Foundation running 6 elementary school programs and two middle school teams in North Minneapolis- a new wave of enthusiastic and skilled skiers will be streaming into the North Minneapolis High Schools. "Once upon a time Henry had one of the best Nordic Ski programs in the city," remarked Bob O'Hara, Meet Manager for High School Sports. "The Anwatin and Nellie Stone Johnson Ski Team Programs will really help rebuild the Nordic ski program for this part of the city."