Wirth hosts Paralympics- a learning experience for all.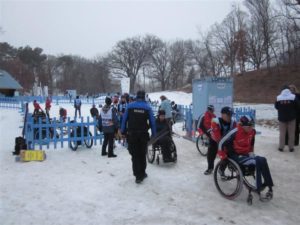 "So when do most people join the Paralympic Team?" I asked the two athletes who volunteered to join myself and a handful of Nordic Ski Foundation Members over lunch. "About three to four years after you get injured," replied US Ski Team member Sean Halstad with a chuckle. The athletes and coaches were just wrapping up a training morning before heading back to the hotel and had freed themselves for an informal question and answer session about both themselves and the event. Halstad, who was injured in 1998 in a helicopter training mission, went on to explain that it takes athletes a few years to deal with the mental trauma of their injury. After that period of time, when they can't take the inactivity any longer- they turn to the world of sports.
That was just our introduction to the US Team, a group of athletes that became familiar faces in Theodore Wirth Park. The Nordic Ski Foundation had teamed up with the US Olympic Committee to bring this event to Minneapolis, the first time the US has held a major Nordic Ski competition in 7 years. Over 100 athletes representing 17 different countries were here to race for two days in Theodore Wirth Park, with the option to stay on and compete in the City of Lakes Loppet. "It is not often these events take place in urban locations," said Competition Manager Max Saenger. "It is still a big deal to travel to the United States. The athletes are really excited to be here."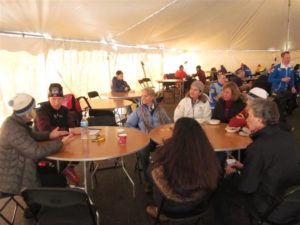 Announcer Sheryl Golin enjoyed sitting down with the coaches and athletes. "That was so useful," she commented. "I was able to ask so many questions, both about the competition and more generally, like what the Norwegians do in "no snow years" like this. He said that is why they have to be nice to Sweden- so they can go over and train in their snow tunnels." Like Golin, and many in the Nordic Ski community, this was their first exposure to both international and disabled competition. Volunteers had a lot to learn regarding racing protocol and course design. "You should be quiet when you see a guide and blind skier pass. The guide is constantly communicating with the blind skier through noises that indicate changes in the terrain on the course," explained US Team Manger John Farra.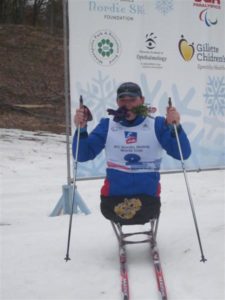 Nels Dyste, Chief of Course for the Paralympics worked many hours with both veteran course designers and the grooming staff at Wirth to create a course that met competition standards. "The thing that surprised me the most was "sprucing of the course". We used evergreen sprigs to create definition on the sides of the trail for the blind skiers to follow." Dyste commented that watching the event was "nerve wracking". "You work hard to make sure there are banks for the sit skiers, and opportunities to slow down. But we knew we were creating a really technically and physically challenging course."
With most spectators and volunteers in attendance unfamiliar with Paralympic sports- every aspect of the competition brought more questions, and inspiring moments. "I realize that in my life I am never around people with disabilities long enough to "stop seeing their disability"" observed Bruce Remak who was captivated by the event for two days. "But when you are around these competitors long enough, you see them as athletes as opposed to people with disabilities."