Nellie Stone Johnson Elementary School visits the Paralympics!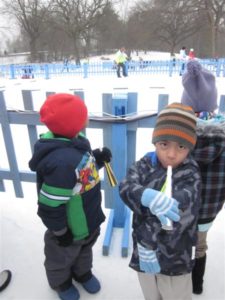 With mitten tugging at the blue fence lining the stadium, students from Nellie Stone Johnson Elementary School peered down the track leading to the finish line. It didn't take long for their timid cheers to escalate into whoops, hollers and joyful cries. Bundled for a day of winter viewing, the students from Nellie Stone Johnson were on a field trip with one major mission in mind: to cheer on the US Paralympic Nordic Team as they competed in the IPC (International Paralympics Committee) Nordic World Cup at Theodore Wirth Park. Waving American flags and home-made posters full of glitter and pictures, the Nellie Stone Johnson students were the most equipped and decorated fans in attendance.
The 20 kids on the field trip had their eyes on one athlete in particular. The day before, in preparation for the event, the students at Nellie Stone Johnson were lucky enough to receive a visit from Kelly Underkofler, one of the U.S. Paralympians competing during the week. Program Coach Allie Rykken had arranged for Underkofler to visit both a third grade classroom of Loppet Elementary School Ski Program participants and an adaptive physical education class. Underkofler has trained on the US Paralympic Ski Team for the past 10 years and has raced extensively around the world.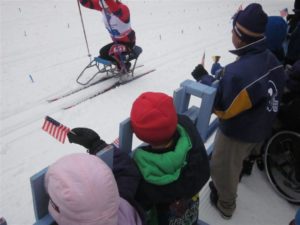 The students had written questions in advance to prepare for Kelly's visit. "How do you open a pop can?" was one of the first questions she got from the class. Kelly, who was born missing the lower half of her left forearm, replied with playful energy, "How do YOU open a pop can? She grabbed a container and mimicked how she would snap into a can of soda, "like this." With laughs and smiles, she quickly won their hearts, and showed the class that while she may do a few things differently, she can still do everything.
"We are so happy to be here," said Julie Ellingson, the Physical Education instructor at Nellie Stone, over the buzzing kazoos that her students used to cheer. Ellingson has been a long term advocate to adding cross-country skiing to her gym class instruction. Kenija Wallace, a fifth grader student who suffers from transverse myelitis, a spinal chord related injury that affects the stability and strength and in her legs, was inspired by the outing. "Sometimes it's hard for me to use my legs and it's hard to keep going." But the skiers showed Kenija a different side of their story. "There are all kinds of different people skiing, and they all believe in themselves. I love skiing."