Trail Ambassadors – Wirth's Skiing Diplomats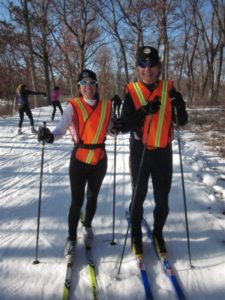 "You think the snow made itself?" humorously poked trail ambassador Adam Gerhartstein who signed up to serve on the Wirth trails with his wife Meredith. The two volunteered to manage the trails at Hiawatha- but with a dry winter so far, they have found themselves patrolling the grounds at Wirth. However- disarming in skis and smiles, the two have found themselves engaging- as opposed to policing- the heavily trafficked trails and working to impress upon people the importance of purchasing ski passes this season.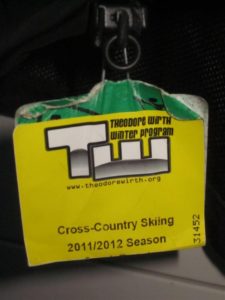 Your passport to Wirth's wintry wonderland is nothing more than a trail pass- a simple yellow tag that flutters at the end of your jacket's zipper. No stamps, no photos, no sniffing dogs, the pass allows users to access any of the 4 cross-country ski trails in the city: Gross, Columbia, Hiawatha and Wirth. Passes run $8 a day or $45 for the season. This is the first year of the family pass which amounts to $25 per family member after the initial pass is bought.
Mike Baker, the Facilities Manager at Wirth Park initiated the Trail Ambassador Program last year at the suggestion of several longtime patrons who noticed that many skiers using the park did not buy passes. "Essentially, Wirth's winter program is self sustaining. All the revenue generated from the tubing, cross-country skiing and snowboarding goes back into directly funding the activities in the snow," Baker explained. "I just don't think a lot of skiers knew about it," said skiing enthusiast and instigator of the ambassador program Tony Mommsen who saw the importance of skiers supporting their trails.
In it's second year, the program has received an overwhelming response. "Last year we had 12 ambassadors. This year I had over 100 people interested," said Baker. "What has become apparent to me is that cross-country skiers are a huge family, and they want to take care of one another." The role of the ambassadors is two-fold but simple: to share their knowledge of the trails and tell people the importance of buying a pass. With Wirth offering a world class network of trails totaling over 25 kilometers, getting a season pass here is quite a steal.
"Wearing this orange vest- people actually talk to you," said ambassador Richard Borst. And that conversation is welcomed. "We love skiing and we want to help people get to know the trail system- while also getting to know the Nordic community," said Meredith Gerhartstein over a sandwich after her shift. "It is a great way to be involved."
Thank you for using and supporting the Minneapolis cross-country ski trails! Think snow!