Steamming and Sunny- Peace Coffee Pre-Loppet a Success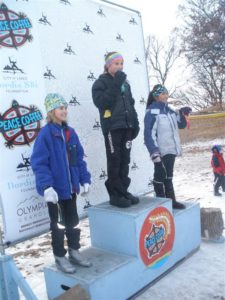 While the groundwork and concept of the 2012 Pre-Loppet was planted in the fall, the bewildering snow-less conditions made race officials wait until the final week to nail down the course. "Usually the Pre-Loppet is a chance for us to test out a mass start in the stadium area for the Loppet," said Operations Director Mike Erikson who said the 2012 Loppet will begin on the flats near the Par 3 building. However, with no snow to speak of, the groomers worked hard to "winterize" 2.5 kilometers of trail a week before the event and the race was re-spun to 4 ½ loops of the snow-track.
On Pre-Loppet morning, volunteers erased the freshly dragged corduroy in the stadium staking flags and laying v-board to transform the white flat into center stage. The morning kicked off with youth races, followed by the 7 and under age category. "You can tell that more and more kids are growing up with skiing," remarked Loppet volunteer, participant parent and race announcer Sheryl Golin who marveled as even the youngest skiers attempted V2 across the finish line. About 30 kids participated in the youth race overall.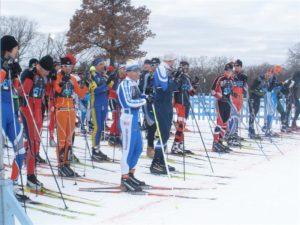 Not long after, the adult racers were called to the starting corral, and with a countdown to a cowbell, racers were off. What the course lacked in snow, it did not skimp in challenge. With several taxing climbs, high school athletes and elite level racers finished each loop with a little more burn in legs and lungs. The men's race came down to a photo finish with Andrew Tillman outsprinting Nate Porath by a toe. Post race, the skiing community continued to visit, oscillating between cups of Peace Coffee and Olympia Granola Bars. Peace Coffee awarded the podium finishers with unique treasures: a gift basket for the winner, and pint glasses and coffee for 2nd and 3rd place. Pounds of coffee were tossed to the participants as door prizes, and all participants took home signature event cups showing the Peace Coffee turtle on skis.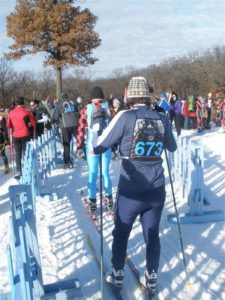 2012 marked the first official year Peace Coffee is the title sponsor of the Pre-Loppet. "This is the perfect event for us," said Peace Coffee events coordinator Angelica Getahun who said Peace Coffee had never been the title sponsor of an event before. Peace Coffee has long sponsored Loppet events with copious amounts of coffee, but this elevated partnership evolved out of a mutual desire to both dignify both the Pre-Loppet race experience as well as the post race cup of coffee. "We take a lot of pride in the races we put on, and Peace Coffee equally puts deliberate and conscientious thought into their product and mission. This was a great opportunity to partner-up and create something new and special," said Outreach Coordinator Ingrid Remak who helped plan the event.
While in future years the Nordic Ski Foundation hopes to return to a full course- it was hard to beat the festive atmosphere of Saturday's event. "Maybe this is just how we should do it," pondered Foundation Director John Munger who also raced. Whatever the future holds, we know one thing for certain: Coffee. Ski. Repeat: it's a proven way to start the day…